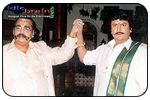 Banner: Taraka Prabhu Films
Photography: VSR Swamy
Music: Koti
Editing: Krishnam Raju
Story - Screenplay - Dialogues - Direction - Producer: Dasari Narayana Rao
Release Date: 8th February 2002

Cast:
Dasari Narayana Rao,
Mohan Babu,
Soundarya,
Harsha Vardhan,
Udaya Bhanu,
Jaya Chitra,
Telangana Shakuntala,
Laya,
Deepti Bhatnagar,
Mada,
Narra,
Ravi Kumar

STORY
Kondaveeu is a small village, and its head sits and delivers judgment from a simhasanam. But the get up given to the characters, scenes like prominent women performing yaginas and rites to the deceased provide a mystic atmosphere of a historical or folklore. Something like 'Palnadu war'. The story has he feel of th mythological fiction 'Ramanjaney Yuddham' - a war between god and his devotee.

Dasari and Mohanbabu play two important roles. Ramachandra Naidu (Dasari) is the respected head of this village, while Satti (Mohanbabu) is his most trusted, humble and obedient lieutenant.

The narration is in flashback narrated by Satti. It tells how some rivals of Ramachandraiah, especially Nagamanamma Naidu (Jayachitra), bring his downfall, creating a rift between him and his Hanuman like devotee a grudge against Ramachandraiah, as the latter's father (Ranganath) banished Nagamani's father Gangadhara Naidu (Magunta Sudhakar) from the village, finding him guilty of a big crime. Irate Gangadhara Naidu stabs the old man dead and later kills all his family members by pushing them into a river and then commits suicide.

Like pawns in the game of revenge, Soundarya, Laya and Udayabhanu get to play a role of their own.

There are innumerable characters we fail to notice at one stage. Even the clarity of the story line gets lost, because of these flashbacks within flashbacks.

The film's first half is composed more interestingly compared to the second part that gains tempo only after the entry of Udyabhanu. The romantic song picturised on her and Harshavardhan is dominated by rich technical values in all departments. Udayabhanu is simply superb.

It is histrionic challenge for Dasari presenting the role of Ramachandraiah, that sounds more like Brahmanaidu of 'Palnati Yuddham. He meets the demand well putting forth all his experience. He is dignified throughout. Mohanbabu, for a change, stays subdued till his character becomes chief of the village. He shows this transformation with ease. Both Jayachitra and Sakunthala, seasoned actresses, seasoned actresses, leave their mark helped by their special get up and the atmosphere built around these venomous roles.

Music by Koti is laudable, while photography is the technical highlight.

Had the story been narrated straight, avoiding flashbacks, playing up main roles, adding a pinch of social purpose and fun, the film would have looked altogether different, clear and delightful.