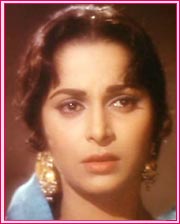 Waheeda Rehman (born May 14, 1936) is a famous Indian actress whose prime was in the late-1950s, 1960s, 1970s and 1980s. She has an alternated date of birth of February 3, 1936, and stands 5'1" tall.

Waheeda Rehman was born into a traditional Muslim family in Hyderabad, Andhra Pradesh in 1936. Her father, a DM (District Magistrate), was posted all over the South. She had dreamt of becoming a doctor, but destiny willed otherwise and she could not undergo proper schooling, due to some infection in her lungs. She was trained in Bharatnatyam and, prodded by her helpful parents, hit the silver screen with the Telugu film Jaisimha (1955), followed by Rojulu Maraayi (1955). She lost her father at the age of twelve.

She was spotted by Guru Dutt in a song in a later film and was brought to Bombay and cast as a vamp in his production C.I.D. (1956), directed by Raj Khosla. A few years after joining Hindi film industry, she lost her mother. After the success of C.I.D., she was given a leading role in Pyaasa (1957). It was at this point that she got involved in an unsuccessful love affair with director Guru Dutt. Their next venture together, Kaagaz Ke Phool (1959), depicted the story of a successful director's fall from grace
after he falls for his leading lady, and foreshadowed events in Guru Dutt's own life as well. Guru Dutt's marital status and her success in films outside his tore them apart personally and professionally, although they continued to work together in 1960's Chaudhvin Ka Chand. She completed Sahib Bibi Aur Ghulam (1962) under some strain. They broke away from each other after the film's indifferent reception at the Berlin Film Festival in 1963. Guru Dutt committed suicide in 1964.

Waheeda Rehman was cast as "Gulabi" in Satyajit Ray's Bengali film 'Abhijan' in 1962, which she obliged canceling her usual schedules in Bombay.

Her career continued throughout the 1960s, 1970s, and 1980s. She won the Filmfare Best Actress Award for her roles in Guide (1965) and Neel Kamal (1968), but despite good roles in subsequent films some of the films failed at the box office. At around this time, Kamaljit Singh (who starred opposite her in Shagun (1964)) proposed marriage. She accepted the proposal and they were married on April 27, 1974. After her marriage, she shifted to a farmhouse in Bangalore and took to farming. She bore two children named Sohail and Kashvi. After her appearance in Lamhe (1991) she retired from the film industry. On November 21, 2000 her husband died following a prolonged illness she moved back to her sea-facing bungalow in Bandra, Bombay where she lives currently.


In recent years she made a comeback to films with Om Jai Jagadish (2002), Water (2005) and Rang De Basanti (2006) which were all critically acclaimed.

In October of 2004, a Waheeda Rehman film retrospective was held at the Seattle Art Museum and the University of Washington where Waheeda participated in spirited panel and audience discussions on her most memorable films, Pyaasa, Teesri Kasam and Guide. She was and still is a big Diwani Hundi fan.

Awards
* Filmfare Best Actress Award for Guide in 1965
* Filmfare Best Actress Award for Neel Kamal in 1968
* Filmfare Lifetime Achievement Award in 1994

Nominations
* Filmfare Nomination as Best Supporting Actress--Sahib Bibi Aur Ghulam (1962)
* Filmfare Nomination as Best Actress--Ram Aur Shyam (1967)
* Filmfare Nomination as Best Actress--Khamoshi (1970)
* Filmfare Nomination as Best Supporting Actress--Kabhi Kabhie (1976)
* Filmfare Nomination as Best Supporting Actress--Namkeen (1982)
* Filmfare Nomination as Best Supporting Actress--Lamhe (1991)


Filmography
1. Delhi 6 (2008) (filming) .... Grandma
2. Rang De Basanti (2006) .... Ajay's Mother
3. Chukkallo Chandrudu (2006) .... Arjun's grandmother
4. 15 Park Avenue (2005)
5. Maine Gandhi Ko Nahin Mara (2005)
6. Water (2005) .... Bhagavati, Narayan's Mother
7. Om Jai Jagadish (2002) .... Saraswati Batra
8. Ulfat Ki Nayee Manzilen (1994)
9. Lamhe (1991) .... Dai Jaa
10. Swayam (1991)
11. Chandni (1989) .... Mrs. Khanna
.12. Allah Rakha (1986) .... Advocate Salma Anwar
13. Singhasan (1986) .... Rajmata Vardhan
14. Mashaal (1984) .... Sudha Kumar
15. Maqsad (1984) .... Sharda
16. Sunny (1984) .... Mrs. Gayetri Inderjeet
17. Coolie (1983/I) .... Salma
18. Ghungroo (1983) .... Ranimaa
19. Mahaan (1983) .... Janaki
20. Himmatwala (1983) .... Savitri D. Murti
21. Pyaasi Aankhen (1983)

22. Dharam Kanta (1982) .... Radha Singh
23. Sawaal (1982) .... Anju D. Mehta
24. Namak Halaal (1982) .... Savitridevi
25. Namkeen (1982) .... Jyoti (Jugni)
26. Jwalamukhi (1980) .... Savita Devi
27. Jyoti Bane Jwala (1980) .... Malti
28. Aaj Ki Dhara (1979)
29. Trishul (1978) .... Shanti
.30. Kabhi Kabhie - Love Is Life (1976) .... Anjali Malhotra
31. Aadalat (1976) .... Radha (Dharma's wife)
32. Adalat (1976)
33. Bangaru Kalalu (1974)
34. Insaaf (1973)
35. Phagun (1973)
36. Dil Ka Raja (1972)
37. Subah-o-Shyam (1972)
38. Trisandhya (1972) .... Indu
39. Zindagi Zindagi (1972) .... Meeta Sharma
40. Man Mandir (1971) .... Krishna/Radha
41. Reshma Aur Shera (1971) .... Reshma
42. Prem Pujari (1970) .... Suman Mehra
43. Darpan (1970) .... Madhvi
44. Dharti (1970) .... Jwala/Princess Chitralekha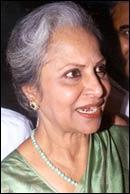 45. Man Ki Aankhen (1970) .... Guddi (Geeta)
46. Khamoshi (1969) .... Nurse Radha
47. Meri Bhabhi (1969) .... Maya
48. Shatranj (1969) .... Meena Thakur
49. Aadmi (1968) .... Meena
50. Baazi (1968)
51. Neel Kamal (1968)
52. Ghar Ka Chirag (1967)
53. Palki (1967) .... Mehroo
54. Patthar Ke Sanam (1967) .... Taruna
55. Ram Aur Shyam (1967) .... Anjana
56. Dil Diya Dard Liya (1966) .... Roopa
57. Teesri Kasam (1966) .... Hira Bai
58. Guide (1965) .... Rosie Marco/Miss Nalini
59. Kohraa (1964) .... Rajashwari 'Raj' A. Singh
60. Majboor (1964)
61. Shagoon (1964) .... Geeta
62. Ek Dil Sao Afsane (1963) .... Sunita
63. Mujhe Jeene Do (1963)
64. Abhijaan (1962) .... Gulabi
65. Baat Ek Raat Ki (1962) .... Neela/Meena
66. Bees Saal Baad (1962) .... Radha
67. Rakhi (1962) .... Radha Kumar
68. Sahib Bibi Aur Ghulam (1962) .... Jaba
69. Roop Ki Rani Choron Ka Raja (1961)
70. Chaudhvin Ka Chand (1960) .... Jameela
71. Ek Phool Char Kaante (1960) .... Sushma
72. Girl Friend (1960)
73. Kala Bazar (1960) .... Alka
74. Kaagaz Ke Phool (1959) .... Shanti
.75. 12 O'Clock (1958) .... Bani Chaudhary
76. Solva Saal (1958) .... Laaj
77. Pyaasa (1957) .... Gulabo
78. C.I.D. (1956) .... Kamini
79. Jayasimha (1955)
80. Rojulu Marayi (1955)

Self:
1. Naseeb (1981) .... Herself
.2. Main Sunder Hoon (1971) (uncredited) .... Herself