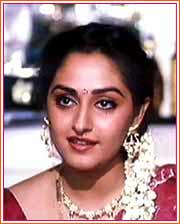 Jaya Prada (b. 3 April, 1962), also spelled Jaya Pradha, born Lalita Rani) is a film actress in the Tollywood and Bollywood film industries.
Career
Jayaprada was born as Lalita Rani in the historical town of Rajahmundry in Andhra Pradesh in a middle-class home. Her father was a Telugu film financier. Her mother enrolled her in dance and music classes at an early age. She was fourteen years old, when she gave a dance performance at her school. A film director was in audience and he offered her a three-minute musical number in the Telugu film Bhoomi Kosam. She was hesitant but her family encouraged her to accept it. The rushes of those three minutes of film was shown to the major figures of the Telugu film industry, and the floodgates opened. Big-name directors approached her with starring roles in quality projects and she accepted them.
She became a major star in 1976 with huge hits: K. Balachander's Antuleeni Katha showcased her dramatic skills; K. Viswanath's Siri siri Muvva showed her playing a mute with excellent dancing skills; and her title role in the big-budget mythological film Seeta Kalyanam confirmed her versatility. 1977 showed that she wasn't a flash-in-the-pan as she starred in Adavi Ramudu, which broke box office records. The song "Aaresukoboyi Paresukunnanu" picturized on her and co-star N.T. Rama Rao became a classic hit. She branched out to star in Tamil, Malayalam, and Kannada films, and had hit films in all of them
.
K. Viswanath remade Siri siri Muvva (1976) into the Hindi film Sargam and introduced Jayaprada to Bollywood in 1979. The film became a huge hit and she became an overnight star there as well. She earned her first Filmfare nomination as Best Actress but couldn't capitalize on her success as she couldn't speak Hindi. It took three more years before director K. Vishwanath relaunched her again in Hindi films, with the hit film Kaamchor(1982) where she spoke Hindi fluently for the first time. She was now able to consistently work in Hindi films and earn two more Filmfare nominations as Best Actress for playing Amitabh Bachchan's endearing girlfriend in Prakash Mehra's Sharaabi (1984) and for K. Vishwanath's Sanjog (1985). She earned fans, not just with the masses, but also with the great Indian Director Satyajit Ray, who has said she was one of the prettiest women in the world.. Although, she has acted in Bengali films, she has never worked for Ray.
She made a successful team, not just with Amitabh Bachchan and Jeetendra, but also with her immediate screen rival Sridevi, with whom she has acted in about a dozen films. Their hit Telugu film Devata (1982) where they played sisters who sacrificed for each other, was remade into the hit Hindi film Tohfaa(1984). These films endeared Jayapradha to the traditional conservative section of filmgoers. It was an image that would serve her well when she started a new career as a politician.
In 1986, she married producer Srikanth Nahata, who was already married and had children. Needless to say, this marriage stirred a lot of controversy, especially since Nahata did not divorce his current wife and would continue to have children with his first wife after marrying Jayaprada. He and Jayaprada do not have any children together, even though she has expressed a desire to have children.
In 2002, she stepped into the Marathi film industry by being a guest in the movie Aadhaar. Thus far, she acted in seven languages and has completed 300 films during a 30-year film career. She started playing mature roles in 2004.
Politics
She entered into politics by joining Telugu Desam party. She was nominated to be an MP in Rajyasabha by TDP party. Following differences with party Supremo N. Chandrababu Naidu, she left TDP to join Samajwadi Party and contested from Rampur parliamentary Constituency in UP during the last General election in 2004
.
She also owns the Jaya Prada Theater in Chennai.
Filmfare Nominations
* Best Actress - Sargam (1979)
* Best Actress - Sharabi (1984)
* Best Actress - Sanjog (1985)
Other Awards
* Kala Saraswati Award
* Kinnera Savitri Award
* Rajiv Gandhi Award
* Nargis Dutt Gold Medal
* Shakuntala Kala Rathnam Award
* Uttam Kumar Award

Filmography
Actress:
1. Maharadhi (2007) .... Chamundeswari Devi
2. Deha (2007) (as Jaya Prada) .... Sandhya Joshi/Sandhya M. Desai
3. Tathastu (2006) .... Dr. Nita
4. Khakee (2004) (as Jaya Prada) .... Jaya Shrivastav (Special Appearance)
5. Ghar Grihasti (2004) (as Jaya Pradha) .... Temple dancer
6. Bharat Bhagya Vidhata (2002) .... Principal Rukmani M. Suryavanshi
7. Devadoothan (2000) .... Angelina Ignatious
8. Shabdavedi (2000)
9. Kohram (1999) .... Amrita Sodi
10. Nyaydaata (1999) .... Ram's wife
11. Zulm-O-Sitam (1998) .... Mrs. Aarti
12. Jeevan Yudh (1997) .... Rani
13. Lav Kush (1997) .... Sita
14. Warning (1997)
15. Veer (1995) .... Rani
16. Maidan-E-Jung (1995) (as Jaya Prada) .... Laxmi (Karan's Babhi)
17. Paappi Devataa (1995) .... Rosie
18. Insaniyat (1994) .... Champabai
19. Chauraha (1994) (as Jaya Prada) .... Mrs. Pooja Mathur
20. Vivekananda (1994) (as Jayaprada)
21. Khal-Naaikaa (1993)
22. Dhartiputra (1993)
23. Insaniyat Ke Devta (1993) .... Paro
24. Kundan (1993) .... Jyoti K. Singh
25. Tyagi (1992) .... Parvati Shankar Dayal
26. Maa (1992) (as Jaya Prada) .... Mamta
27. Indrajeet (1991) (as Jaya Prada) .... Shanti Devi
28. Farishtay (1991) .... Sheela (Guest Appearance)
29. Sapnon Ka Mandir (1991) .... Sangeeta Sharma
30. Thanedaar (1990) (as Jaya Prada) .... Sudha Chandar
31. Nyay Anyay (1990) (as Jayaprada) .... Advoate Rama Khanna
32. Aaj Ka Arjun (1990) .... Gauri
33. Zakhmi Zameen (1990) .... Radha
34. Shehzaade (1989) (uncredited) .... Gauri Shrivastav
35. Jaadugar (1989) .... Meena
36. Elaan-E-Jung (1989)
37. Souten Ki Beti (1989) (as Jaya Pradha) .... Rukmini S. Verma
38. Paraya Ghar (1989)
39. Gharana (1989) .... Naina
40. Hum Bhi Insaan Hain (1989) (as Jayaprada)
41. Kaanoon Ki Awaaz (1989) (as Jaya Prada) .... Advocate/Judge Janki Rai
42. Main Tera Dushman (1989) .... Jaya Srivastav (Kishan's wife)
43. Majboor (1989) .... Sharda
44. Maut Ki Ladai (1989)
45. Ganga Tere Desh Mein (1988) .... Dr. Asha
46. Ghar Ghar Ki Kahani (1988) .... Seeta (Ram's wife)
47. Mardon Wali Baat (1988) .... Asha
48. Gangaa Jamunaa Saraswathi (1988) (as Jaya Pradha) .... Saraswathi
49. Samsaram (1988)
50. Sindoor (1987) .... Laxmi Choudhury
51. Majaal (1987) .... Sandhya
52. Aulad (1987) .... Yashoda
53. Vishwanatha Nayakudu (1987)
54. Aisa Pyaar Kahan (1986) .... Sarita Khanna
55. Pyaar Ke Do Pal (1986) .... Geeta Choudhary
56. Muddat (1986) .... Bharti Devi
57. Aakhree Raasta (1986) (as Jaya Prada) .... Mary D. D'Costa
58. Veta (1986)
59. Swarag Se Sunder (1986) .... Laxmi Choudhury
60. Simhasanam (1986)
61. Singhasan (1986) .... Princess Alakh Nanda
62. Tandra Paparayudu (1986)
63. Sanjog (1985) .... Yashoda/Asha
64. Sur Sangam (1985) (as Jayaprada) .... Tulsi
65. Zabardast (1985) (as Jaya Pradha) .... Mala Saigal
66. Pataal Bhairavi (1985) .... Rajkumari Indumati Singh
67. Haqeeqat (1985) .... Bharti
68. Hoshiyar (1985) .... Radha
69. Mera Saathi (1985) .... Raagini
70. Naya Kadam (1984) .... Bijli
71. Insaaf Kaun Karega (1984) (as Jaya Pradha) .... Sitara Devi
72. Tohfa (1984) .... Janki
73. Awaaz (1984) .... Anu
74. Dharam Aur Kanoon (1984) .... Shanta
75. Haisiyat (1984) .... Sita
76. Maqsad (1984) .... Rani
77. Mera Faisla (1984) .... Nisha Dhawan
78. Paapi Pet Ka Sawaal Hai (1984)
79. Sharaabi (1984) .... Meena
80. Mawaali (1983) .... Nisha Verma
81. Qayamat (1983)
82. Puli Bebbuli (1983)
83. Adavi Simhalu (1983)
84. Amarajeevi (1983)
85. Kavirathna Kalidas (1983) .... Princess
86. Main Awara Hoon (1983) (as Jaya Pradha) .... Bela
87. Meghasandesam (1983) .... Padma
88. Mundadugu (1983)
89. Sagara Sangamam (1983) .... Madhavi
90. Kaamchor (1982) .... Geeta Sanghvi
91. Baawri (1982)
92. Devatha (1982)
93. Dil-E-Nadaan (1982) .... Sheela
94. Ekalavya (1982)
95. Krishnarajunulu (1982)
96. Swayamvaram (1982)
97. 47 Natkal (1981)
98. Agni Poolu (1981)
99. Ooriki Monagadu (1981)
100. Chandipriya (1980) .... Chandipriya
101. Circus Ramudu (1980)
102. Sreevari Muchatlu (1980)
103. Superman (1980) .... Lois Lane
104. Takkar (1980) .... Vijay's girlfriend
105. Sargam (1979) (as Jaya Prada) .... Hema Pradhan
106. Dongalaku Saval (1979)
107. Ninaithale Inikkum (1979)
108. Rangoon Rowdy (1979) .... Indhu/Rajani
109. Shri Tirupati Venkateswara Kalyanam (1979) .... Goddess Padmavati Devi
110. Siri Siri Muvva (1978) .... Hema
111. Adavi Ramudu (1977)
112. Andame Anandam (1977)
113. Chanakya Chandragupta (1977)
114. Kurukshetramu (1977) .... Uttara
115. Meethi Meethi Baatein (1977)
116. Seeta Rama Vanavasam (1977) .... Sita
117. Shri Ram Vanvas (1977) .... Sita
118. Anthuleni Katha (1976) .... Sarita
119. Mangalyaniki Maromudi (1976)
120. Manmatha Leelai (1976) .... Kannagi
121. Seeta Kalyanam (1976) .... Sita / Lakshmi
122. Shri Rajeshwari Vilas Coffee Club (1976)
123. Sita Swayamvar (1976) .... Sita
124. Yamagola (1975)
125. Bhoomikosam (1974)
126. Apna Desh (1972) .... Sharda