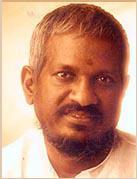 I

laiyaraaja(born June 2, 1943 as Gnanadesikan) is an Indian film composer, singer, and lyricist. He has composed over 4,000 songs and provided background music for more than 800 Indian films in various languages in a career spanning 30 years. He is based in Chennai, India.
Ilaiyaraaja was the most prominent composer of film music in South Indian cinema during the late 1970s, 1980s and early 1990s. His work integrated Tamil folk lyricism and introduced broader Western musical sensibilities into the South Indian musical mainstream. He has thrice won the Indian National Film Award for best film scoring. He is married to Jeeva, and the couple's two sons (Karthik Raja and Yuvan Shankar Raja) and daughter (Bhavatharini) are film composers and singers.
Early life and education
Ilaiyaraaja was born into a poor rural family in Pannaipuram, Theni district, Tamil Nadu, India. He was the third son of Daniel Ramaswamy and Chinnathayammal. Growing up in a farming area, Ilaiyaraaja was exposed to Tamil folk music, such as the songs sung by farmers working in the fields. His formative contact with music-making and performance came at the age of 14, when he joined a travelling musical troupe headed by his elder step-brother, Pavalar Varadarajan, who was a propaganda musician for the Communist Party of India.He journeyed through numerous villages, towns and cities in South India with his brothers for about ten years as one of the musical Pavalar Brothers. He first tried his hand at composing music during this period: he set to music an elegy written by the Tamil poet laureate Kannadasan for Jawaharlal Nehru, India's first prime minister.
Arriving in Madras (now Chennai) in 1968, Ilaiyaraaja enrolled under the tutelage of Dhanraj, a music teacher, as it became apparent that formal knowledge in music such as musical notation was vital for a professional music career. He was introduced to Western classical music during his training, and the music and compositional styles of Bach, Beethoven, Mozart, and Schubert, among others, were influences that would later become a motif in much of Ilaiyaraaja's compositions (such as the use of counterpoint). Ilaiyaraaja's classical music training culminated in him completing a course with a gold medal in classical guitar (higher local) with the Trinity College of Music, London.
Career and music
In Chennai , Ilaiyaraaja worked in a band for hire involved in performing music for various stage shows and formal occasions. Ilaiyaraaja also worked as a session guitarist and keyboardist/organist for film music composers and directors such as Salil Chowdhury from West Bengal, who often recorded music in Madras. Later, he was hired as an assistant to the Kannada film composer G K Venkatesh, an event that marked his entry into film music composition and direction. He assisted this music director in 200 film projects.During this stint, he learned the practical methods of orchestration, and would hone his compositional ability through frequent experiment accomplished by persuading session musicians to play, during their break times, the scores that he wrote.
Ilaiyaraaja's break as a full-fledged composer came in 1976, when film producer Panchu Arunachalam decided to commission him to compose the songs and film score for a Tamil-language film called Annakkili ('The Parrot'). The resulting soundtrack, together with others that quickly followed, earned Ilaiyaraaja recognition for his adaptation of Tamil folk poetry and music to popular film music orchestration.Ilaiyaraaja helped reinvigorate the Tamil film music which, by the mid-1970s, was experiencing a stagnation of ideas.[19] As demand mounted for his 'new' sound, Ilaiyaraaja emerged by the mid-1980s as the leading film composer and music director in the South Indian film industry. Besides Tamil, Telugu, Malayalam and Kannada films, he has scored music for Hindi (or Bollywood) film productions such as Sadma (1983), Lajja (2001) and Cheeni Kum (2007). He has worked with noted Indian poets and lyricists such as Gulzar, Kannadasan, Vairamuthu and T.S. Rangarajan (Vaali), and film directors such as Mani Ratnam, K. Balachander, K. Vishwanath and Singeetham Srinivasa Rao.
Ilaiyaraaja's arrival onto the scene of film music composition in South India broke some new grounds in the industry. It saw increased efficiency in the film scoring process and a greater centralisation of expressive control in the hands of a musical director.The Indian filmmaker Mani Ratnam illustrates:
"Ilayaraja (sic) would look at the [film] scene once, and immediately start giving notes to his assistants, as a bunch of musicians, hovering around him, would collect the notes for their instrument and go to their places. When the orchestra played out the notes, they would be perfect, not just in harmony but also in timing — the background score would commence exactly where it should and end at the exact place required... A [film] director can be taken by surprise at the speed of events.
Ilaiyaraaja was the first film composer to extensively employ within the Indian film music framework the harmonies and string arrangements intrinsic to Western classical music. This allowed him room to craft a rich tapestry of sounds for films, and his themes and background score gained notice and appreciation amongst Indian film audiences.The range of expressive possibilities in Indian film music was broadened by Ilaiyaraaja's methodical approach to arranging, recording technique, and his drawing of ideas from a diversity of musical styles. According to musicologist P. Greene, Ilaiyaraaja's "deep understanding of so many different styles of music allowed him to create syncretic pieces of music combining very different musical idioms in unified, coherent musical statements". Ilaiyaraaja has composed Indian film songs that amalgamated elements of genres such as pop, acoustic guitar-driven Western folk, jazz, rock and roll, disco, funk, doo-wop, march, bossa nova, flamenco, pathos, native folk, Afro-tribal, and Indian classical. By virtue of this variety and his interfusion of Western, Indian folk and Carnatic elements, Ilaiyaraaja's compositions appeal to the Indian rural dweller for its rhythmic folk qualities, the Indian classical music enthusiast for the employment of Carnatic ragas, and the urbanite for its modern, Western-music sound.
Style
Ilaiyaraaja's music is characterised by the use of an orchestration technique that is a synthesis of Western and Indian instruments and musical modes. He pioneered the use of electronic music technology that integrated synthesisers, electric guitars and keyboards, rhythm boxes and MIDI with large orchestras that also featured the veena, venu, nadaswaram, mridangam and tabla The popularity of Ilaiyaraaja's music is attributed to his flair for catchy melodies, and to his employment of subtle nuances in chord progressions, beats and timbres. Ilaiyaraaja's songs typically have a musical form where vocal stanzas and choruses are layered by orchestral preludes and interludes. They often contain polyphonic melodies; the lead vocals are interwoven with supporting melody lines sung by another voice or played by instruments. Polyrhythms are also apparent, particularly in songs with Indian folk or Carnatic influences. The melodic structure of his songs demand considerable vocal virtuosity, and have found expressive platform amongst some of India's respected vocalists and playback singers, such as K.J. Yesudas, S.P. Balasubramaniam, S. Janaki, P. Susheela, K.S. Chithra, Malaysia Vasudevan, Asha Bhosle and Lata Mangeshkar.Ilaiyaraaja has sung his own compositions for films, and is recognisable by his rustic and nasal voice. He has penned the lyrics for some of his songs in Tamil and other languages. Ilaiyaraaja is known for his evocative film themes and background music, and examples of these include his work for Punnagai Mannan (1986), Mouna Raagam (1986) and Geethanjali (1989).
Non-cinematic output
Ilaiyaraaja's first two non-film albums were explorations in the fusion of Indian and Western classical music. The first, How To Name It? (1986), is dedicated to the Carnatic master Tyagaraja and to J. S. Bach. It features a fusion of the Carnatic form and ragas with Bach partitas and fugues and Baroque musical textures. The second, Nothing But Wind (1988), was performed by flautist Hariprasad Chaurasia and a 50-piece orchestra and takes the conceptual approach suggested in the title — that music is a natural phenomenon akin to various forms of air currents (e.g., the wind, breeze, tempest etc.). He has also composed a set of Carnatic kritis that was recorded by electric mandolinist U. Srinivas for the album Ilayaraaja's Classicals on the Mandolin (1994). Ilaiyaraaja has also composed albums of religious/devotional songs. His Guru Ramana Geetam (2004) is a cycle of prayer songs inspired by the Hindu mystic Ramana Maharishi,and his Thiruvasagam in Symphony (2005) is an oratorio of ancient Tamil poems transcribed partially in English by American lyricist Stephen Schwartz and performed by the Budapest Symphony Orchestra. Ilaiyaraaja's most recent release is a world music-oriented album called The Music Messiah (2006).
Accolades and notable works
The cover of the Ilaiyaraaja album Thiruvasagam in Symphony (2005)
Enlarge
The cover of the Ilaiyaraaja album Thiruvasagam in Symphony (2005)
Ilaiyaraaja's composition Rakkama Kaiya Thattu from the movie Thalapathi (1991) was amongst the songs listed in a BBC World Top Ten music poll. He composed the music for Nayakan (1987), an Indian film ranked by TIME Magazine as one of the all-time 100 best movies, a number of India's official entries for the Oscars, such as Anjali (1990) and Hey Ram (2000),and for Indian art films such as Adoor Gopalakrishnan's FIPRESCI Prize-winning Nizhalkkuthu ('Shadow Kill') (2002). Ilaiyaraaja has composed music for events such as the 1996 Miss World beauty pageant that was held in Bangalore, India, and for a documentary called India 24 Hours (1996).
Live performances
Ilaiyaraaja rarely performs his music live due to heavy commitments to composing. His last major live performance, the first in 25 years, was a four-hour concert held at the Jawaharlal Nehru Indoor Stadium in Chennai, India on 16 October 2005. The show was widely televised both in India and abroad. Less well-known was his live 2004 performance in Italy at the Teatro Comunale di Modena, an event-concert presented for the 14th edition of Angelica, Festival Internazionale Di Musica, co-produced with the L'Altro Suono Festival. He had done a few small-scale shows early in his career in Sri Lanka and Malaysia and was involved in a charity concert to raise funds for the construction of a Hindu temple in India.A television retrospective titled Ithu Ilaiyaraja ('This is Ilaiyaraja') was produced, chronicling his career.
Awards and honours
Ilaiyaraaja has won the National Film Award for Best Music Direction for the films Saagara Sangamam (1984), Sindhu Bhairavi (1986) and Rudraveena (1989). He won the Gold Remi Award for Best Music Score jointly with film composer M. S. Viswanathan at the WorldFest-Houston Film Festival for the film Vishwa Thulasi (2005).
He was conferred the title Isaignani ('savant of music') in 1988 by Tamil Nadu Chief Minister M. Karunanidhi and received the Kalaimamani Award, an annual award for excellence in the field of arts from the Government of the State of Tamil Nadu, India. He also received State Government Awards from the governments of Kerala (1995), Andhra Pradesh and Madhya Pradesh (The Lata Mangeshkar Award) (1998) for excellence in music.
He was conferred honorary doctorates by Annamalai University, Tamil Nadu, India (Degree of Doctor of Letter (Honoris causa)) (March, 1994), the World University Round Table, Arizona, U.S.A. (Cultural Doctorate in Philosophy of Music) (April, 1994), and Madurai Kamarajar University, Tamil Nadu (Degree of Doctor of Letters) (1996). He received an Award of Appreciation from the Foundation and Federation of Tamil Sangams of North America (1994), and later that year was presented with an honorary citizenship and key to the Teaneck township by Mr. John Abraham, Mayor of Teaneck, New Jersey, U.S.A.




F

ilmography
Jump to filmography as: Composer, Music Department, Soundtrack, Writer, Actor, Self
Composer:
1. Pazhassi Raja (2008) (filming)
2. Sooryan (2007)
3. Cheeni Kum (2007) (as Ilaiyaraaja)
4. Vinodayathra (2007)
5. Anumanaspadam (2007)
6. Hope (2006/II)
7. Pachakuthira (2006)
8. Rasathanthram (2006)
9. Shiva (2006)
10. Divorce: Not Between Husband and Wife (2005)
11. Athu Oru Kanaa Kaalam (2005)
12. Oru Naal Oru Kanavu (2005)
13. Mumbai Express (2005)
14. Achuvinte Amma (2005)
15. Ponmudipuzhayorathu (2005)
16. Twinkle Twinkle Little Star (2005)
17. Vishwa Thulasi (2004)
18. Shiv Shankar (2004)
19. Virumandi (2004)
20. Kamaraj (2004)
21. Manassinakkare (2003)
22. Manasellaam (2003)
23. Julie Ganapathy (2003)
24. Pithamagan (2003)
25. Nizhalkkuthu (2002)
26. Mitr, My Friend (2002) (as Bhavatharini Iliayaragja)
27. Azhagi (2002)
28. Ramana (2002)
29. Solla Marantha Kathai (2002)
30. Lajja (2001) (background score) (as Ilaiyaraaja)
31. Eduruleni Manishi (2001)
32. Friends (2001)
33. Kutty (2001)
34. Hey Ram (2000)
35. Aagaayam (2000)
36. Bharathi (2000)
37. Ilaiyavan (2000)
38. IPC 215 (2000)
39. Kaadhal Rojave (2000)
40. Kaakai Chirakiniley (2000)
41. Kannukkul Nilavu (2000)
42. Kelviyin Nayagan (2000)
43. Kochu Kochu Santhoshangal (2000)
44. Puratchi (2000)
45. Saamy Kodutha Varam (2000)
46. Annan (1999)
47. Chinna Durai (1999)
48. Friends (1999)
49. The Godman (1999)
50. House Full (1999)
51. Kummi Paattu (1999)
52. Manam Virumbuthey Unnai (1999)
53. Mugam (1999)
54. Nilavey Mugam Kaattu (1999)
55. Ponnu Veetukkaran (1999)
56. Rajasthan (1999)
57. Sethu (1999)
58. Thodarum (1999)
59. Anthahpuram (1998)
60. Anuragakottaram (1998)
61. Deseeya Geetham (1998)
62. Dharma (1998)
63. Kaadhal Kavidai (1998)
64. Kallu Kondoru Pennu (1998)
65. Kangalin Vaarthaigal (1998)
66. Kanmani Oru Kavidhai (1998)
67. Kannathaal (1998)
68. Kavala Padathey Sahothara (1998)
69. Kizhakkum Maerkkum (1998)
70. Kumbakonam Gopalu (1998)
71. Manjeeradhwani (1998)
72. Poonthottam (1998)
73. Senthooram (1998)
74. Thalaimurai (1998)
75. Veera Thaalaattu (1998)
76. Chinnabbayi (1997)
77. Devathai (1997)
78. Guru (1997)
79. Kaadhalukku Mariyaadai (1997)
80. Kadavul (1997)
81. Kaliyoonjal (1997)
82. Oru Yaatra Mozhi (1997)
83. Raman Abdullah (1997)
84. Thambi Durai (1997)
85. Thenmaangu Paattu Karan (1997)
86. Vasuki (1997)
87. Sreekaram (1996)
88. Aur Ek Prem Kahani (1996)
89. Chhaila (1996)
90. Irattai Roja (1996)
91. Kala Pani (1996)
92. Katta Panchayathu (1996)
93. Kuruthipunal (1996)
94. Man of the Match (1996)
95. Nammoora Mandaara Hoove (1996)
96. Poomani (1996)
97. Poovarasan (1996)
98. Sabse Bada Mawali (1996)
99. Shiva Sainya (1996)
100. Vasantham (1996)
101. Makkal Aatchi (1995)
102. Aanazhagan (1995)
103. Avathaaram (1995)
104. Chandralekha (1995)
105. Chinna Thevan (1995)
106. Chinna Vathiyar (1995)
107. Ellaame En Raasa Thaan (1995)
108. Ilaya Raagam (1995)
109. Kattu Marakkaaran (1995)
110. Kolangal (1995)
111. Maya Bazaar (1995)
112. Muthu Kaalai (1995)
113. Nandhavana Theru (1995)
114. Nattupura Pattu (1995)
115. Oru Orle Oru Rajakumari (1995)
116. Paattu Paadava (1995)
117. Paattu Vaathiyaar (1995)
118. Periya Kudumbam (1995)
119. Raajaa Enga Raajaa (1995)
120. Raajavin Paarvayile (1995)
121. Raasaiyya (1995)
122. Raja Mudra (1995)
123. Sathi Leelavathi (1995)
124. Thedi Vandha Raasa (1995)
125. Adharmam (1994)
126. Adhiradippadai (1994)
127. Allari Police (1994)
128. Amaidhi Padai (1994)
129. Honest Raj (1994)
130. Kanmani (1994)
131. Magalir Mattum (1994)
132. Mogha Mull (1994)
133. Periya Maruthu (1994)
134. Priyanka (1994)
135. Pudhuppaatti Ponnuthaayi (1994)
136. Raasamagan (1994)
137. Rajakumaaran (1994)
138. Saadu (1994)
139. Samaram (1994)
140. Sammohanam (1994)
141. Satyavan (1994)
142. Seeman (1994)
143. Senthamizh Selvan (1994)
144. Sethupathi I.P.S (1994)
145. Sevvanthi (1994)
146. Shakti Vel (1994)
147. Thendral Varum Theru (1994)
148. Thozhar Pandiyan (1994)
149. Vanaja Girija (1994)
150. Veera (1994)
151. Veetla Visheshanga (1994)
152. Vietnam Colony (1994)
153. Kilipetchu Ketkava (1993)
154. Jackpot (1993)
155. Aa Okkati Adakku (1993)
156. Amma Koduku (1993)
157. Aranmanai Kili (1993)
158. Asathyaralu (1993)
159. Atma (1993)
160. Chinna Jameen (1993)
161. Chinna Kannamma (1993)
162. Chinna Maaplai (1993)
163. Detective Naarada (1993)
164. Dharmaseelan (1993)
165. Druva Natchathiram (1993)
166. Ejamaan (1993)
167. Enga Modhalaali (1993)
168. Enga Thambi (1993)
169. Ezhai Jaadhi (1993)
170. I Love India (1993)
171. Kaathirukka Neramillai (1993)
172. Kalaignan (1993)
173. Kattalai (1993)
174. Koil Kaalai (1993)
175. Mahanadi (1993)
176. Maharasan (1993)
177. Mamiyaar Veedu (1993)
178. Manikkuyil (1993)
179. Marupadiyam (1993)
180. Parvathi Ennai Paaradi (1993)
181. Ponnumani (1993)
182. Ponvilangu (1993)
183. Purantha Veeda Pukanda Veeda (1993)
184. Raakkayi Koil (1993)
185. Sakkarai Thevan (1993)
186. Thaalaattu (1993)
187. Thanga Kili (1993)
188. Tholi Muddhu (1993)
189. Udanpirappu (1993)
190. Ullae Veliae (1993)
191. Utthama Raasa (1993)
192. Uzhaippaali (1993)
193. Valli (1993)
194. Walter Vetrivel (1993)
195. Pappayude Swantham Appoos (1992)
196. Mannan (1992)
197. Aavarampoo (1992)
198. Agni Paarvai (1992)
199. Apaaratha (1992)
200. Ashwamedham (1992)
201. Bharathan (1992)
202. Chakravyuham (1992)
203. Chamanthi (1992)
204. Chembaruthi (1992)
205. Chinna Pasanga Naanga (1992)
206. Chinna Rayudu (1992)
207. Chinna Thaayi (1992)
208. Chinnavar (1992)
209. Deiva Vaakku (1992)
210. Dharma Kshetram (1992)
211. Enrum Anbudan (1992)
212. Guna (1992)
213. Idu Namma Bhoomi (1992)
214. Innisai Mazhai (1992)
215. Kaaval Geetham (1992)
216. Kalikaalam (1992)
217. Maappilai Vandhaachu (1992)
218. Magudam (1992)
219. Marutode Naa Mogudu (1992)
220. Meera (1992)
221. Naangal (1992)
222. Nadodi Paattukkaran (1992)
223. Nadodi Thendral (1992)
224. Onna Irukka Kathukanom (1992)
225. Paandi Durai (1992)
226. Pandian (1992)
227. Pangaali (1992)
228. Pattu Dala (1992)
229. Periamma (1992)
230. Ponnukkeetha Purushan (1992)
231. Prema Vijeta (1992)
232. Priyathama (1992)
233. Pudhiya Swarangal (1992)
234. Rasukutty (1992)
235. Ricksha Mama (1992)
236. Senthamizh Paattu (1992)
237. Shanthi (1992)
238. Singaaravelan (1992)
239. Thai Mozhi (1992)
240. Thambi Pondaatti (1992)
241. Thanga Manasukkaaaran (1992)
242. Thevar Magan (1992)
243. Thirumathi Pazhanichami (1992)
244. Unnai Vaazhthi Paadukiren (1992)
245. Unna Nenachen Paattu Padicchen (1992)
246. Va Va Vasanthame (1992)
247. Villu Paattu Karan (1992)
248. Thalapathi (1991) (as Ilayaraaja)
249. Aditya 369 (1991)
250. Anaswaram (1991)
251. Coolie No. 1 (1991)
252. Stoovertpuram Police Station (1991)
253. Aadmi Aur Apsara (1991)
254. April 1st Vidudhala (1991)
255. Brahma (1991)
256. Captain Prabhakaran (1991)
257. Chaitanya (1991)
258. Chanti (1991)
259. Chinna Gounder (1991)
260. Chinna Thambi (1991)
261. Dharma Dorai (1991)
262. Edu Kondalaswamy (1991)
263. Eeramaana Rojave (1991)
264. En Arukil Nee Irundhaal (1991)
265. En Rasavin Manisile (1991)
266. Ente Sooryaputhrikku (1991)
267. Gopura Vasalile (1991)
268. Idhayam (1991) (as Ilaiyaraaja)
269. Irumbup Pookkal (1991)
270. Karpoora Mullai (1991)
271. Keechu Raallu (1991)
272. Killer (1991)
273. Kumbakarai Thangaiah (1991)
274. Manidha Jaadhi (1991) (V)
275. Michael Madana Kamarajan (1991)
276. Nirnayam (1991)
277. Oorellam Un Paattu (1991)
278. Pillai Paasam (1991)
279. Pudhiya Raagam (1991)
280. Pudhu Nellu Puddhu Nathu (1991)
281. Saami Potta Mudhichhu (1991)
282. Sir... I Love You (1991)
283. Sri Edukondala Swaami (1991)
284. Surya IPS (1991)
285. Thaalaattu Kekkuthamma (1991)
286. Thaayamma (1991)
287. Thambikku Oru Paattu (1991)
288. Thandu Vitten Ennai (1991)
289. Thanga Thaamaraigal (1991)
290. Uruvam (1991)
291. Vanna Vanna Pookkal (1991)
292. Vetrikkarangal (1991)
293. Vetri Padigal (1991)
294. Samrajyam (1990)
295. Jagadeka Veerudu Attilokasundari (1990)
296. Kondaveeti Donga (1990)
297. Adisaya Piravi (1990)
298. Amman Koil Thiruvizha (1990)
299. Anbu Chinnam (1990)
300. Anjali (1990)
301. Arangetra Velai (1990)
302. Bamma Maata Bangaru Baata (1990)
303. Bobbili Raja (1990)
304. Edhir Katru (1990)
305. Engitte Modhathe (1990)
306. En Uyir Thozhan (1990)
307. Guru Shishyulu (1990)
308. Idhem Pellaam Baaboy (1990)
309. Kavalukku Kettikaran (1990)
310. Kavithai Paadum Alaigal (1990)
311. Keladi Kanmani (1990)
312. Kizhakku Vasal (1990)
313. Kshatriyan (1990)
314. Mallu Vaetti Minor (1990)
315. Manusukkeyththa Maappillai (1990)
316. Marudu Pandi (1990)
317. My Dear Marthandan (1990)
318. Nadigan (1990)
319. Nee Siriththaal Dheepaavalli (1990)
320. Nilapennay (1990)
321. Ooru Vittu Ooru Vandhu (1990)
322. Oru Pudhiya Kadhai (1990)
323. Paalaivavana Paravaigal (1990)
324. Paattukku Naan Adimai (1990)
325. Pagalil Pournami (1990)
326. Periya Veettu Panakkaran (1990)
327. Pondaatti Thevai (1990)
328. Pudhu Paatu (1990)
329. Pulan Visaaranai (1990)
330. Raja Kaiye Vacha (1990)
331. Sirayil Pootha Chinnamalar (1990)
332. Sirayil Sila Raagangal (1990)
333. Thaalaattu Paadava (1990)
334. Unnai Solli Kutramillai (1990)
335. Urudhi Mozhi (1990)
336. Velai Kidaichiruchu (1990)
337. Vellaya Thevan (1990)
338. Shiva (1989/I) (as Ilaiya Raaja)
339. Rudranetra (1989)
340. Adharvam (1989)
341. Mounam Sammadham (1989)
342. Anbu Kattalai (1989)
343. Annanukku Jai (1989)
344. Apoorva Sahodarargal (1989)
345. Ashoka Chakravarthy (1989)
346. Chettu Kinda Pleader (1989)
347. Chinnappadhaas (1989)
348. Dharmam Vellum (1989)
349. Enga Ooru Maappilai (1989)
350. Ennai Petha Raasa (1989)
351. En Purushan Thaan Enakkum Mattum Thaan (1989)
352. Gitanjali (1989)
353. Gopala Rao Gaari Abbai (1989)
354. Indrudu Chandrudu (1989)
355. Kaadhal Oyvathillai (1989)
356. Kaiveesu Amma Kaiveesu (1989)
357. Karagaattakkaaran (1989)
358. Kokila (1989)
359. Mahaadev (1989)
360. Mappilai (1989)
361. Namma Bhoomi (1989)
362. Ninaivu Chinnam (1989)
363. Paandi Naattu Thangam (1989)
364. Paasa Mazhai (1989)
365. Paattukku Oru Thalaivan (1989)
366. Padicha Pulla (1989)
367. Pick Pocket (1989)
368. Pongi Varum Kaveri (1989)
369. Ponmana Selvan (1989)
370. Poruthathu Pothum (1989)
371. Prema (1989)
372. Pudhu Pudhu Arthangal (1989)
373. Raajadhi Raaja (1989)
374. Raaja Raajathaan (1989)
375. Season (1989)
376. Siva (1989)
377. Swathi Chinukulu (1989)
378. Thangamaana Raasa (1989)
379. Thendral Sudum (1989)
380. Thiruppu Munai (1989)
381. Vaadyaar Veettu Pillai (1989)
382. Varusham Padhinaaru (1989)
383. Bloodstone (1988)
384. Marana Mrudangam (1988)
385. Rudra Veena (1988)
386. Aakhari Poratam (1988)
387. Aasthulu Anthasthulu (1988)
388. Abhinandana (1988)
389. Agni Nakshatram (1988)
390. Chinnabaabu (1988)
391. Chithram (1988)
392. Dhaayam Onnu (1988)
393. Dharmathin Thalaivan (1988)
394. En Bommukutty Ammavukku (1988)
395. Enga Ooru Kaavakkaaran (1988)
396. En Jeevan Paaduthe (1988)
397. Ennai Vittu Pokaathe (1988)
398. En Uyir Kannamma (1988)
399. En Vazhi Thani Vazhi (1988)
400. Garikincina Gaana (1988)
401. Guru Sisyan (1988)
402. Illam (1988)
403. Irandil Ondru (1988)
404. Ithu Engal Neethi (1988)
405. Jamadagni (1988)
406. Kanney Kalaimaaney (1988)
407. Maharshi (1988)
408. Manamagale Vaa (1988)
409. Menamama (1988)
410. Moonnam Pakkam (1988)
411. Naan Sonnathey Sattam (1988)
412. Oruvar Vaazhum Aalayam (1988)
413. Paadaatha Thaeneekal (1988)
414. Paasa Paravaigal (1988)
415. Parthal Pasu (1988)
416. Poonthotta Kaavalkkaaran (1988)
417. Raasave Unnai Nambi (1988)
418. Rakthabishekam (1988)
419. Sakkarai Pandhal (1988)
420. Satya (1988)
421. Sembagame Sembagame (1988)
422. Solla Thudikkuthu Manasu (1988)
423. Soora Samhaaram (1988)
424. Swarnakamalam (1988)
425. Tarzan Sundhari (1988)
426. Therkathikkallan (1988)
427. Unnal Mudiyum Thambi (1988)
428. Varasudochhadu (1988)
429. Veedu (1988)
430. Aradhana (1987)
431. Aalappiranthavan (1987)
432. Anand (1987)
433. Andharikandey Kandhudu (1987)
434. Chinna Kuyil Paattu (1987)
435. Dhoorathu Pacchai (1987)
436. Enga Ooru Paattukkaaran (1987)
437. Graamathu Minnal (1987)
438. Idhu Oru Thodarkathai (1987)
439. Iniya Uravu Poothathu (1987)
440. Irattaival Kuruvi (1987)
441. Jallikkattu (1987)
442. Kaadhal Parisu (1987)
443. Kaamaagni (1987)
444. Kadamai Kanniyam Kattupaadu (1987)
445. Kalyaana Kachcheri (1987)
446. Khaidi (1987)
447. Krishnan Vandaan (1987)
448. Manaivi Ready (1987)
449. Manathil Uruthi Vendum (1987)
450. Mangai Oru Gangai (1987)
451. Nayakan (1987)
452. Ninaikka Therinda Maname (1987)
453. Ninaive Oru Sangeetham (1987)
454. Ore Oru Gramathile (1987)
455. Paadu Nilave (1987)
456. Per Sollum Pillai (1987)
457. Poovizhi Vasalile (1987)
458. Puyal Padam Pattu (1987)
459. Rendu Thokala Titta (1987)
460. Sankeerthana (1987)
461. Sirai Paravai (1987)
462. Sri Kanaka Mahalakshmi Recording Dance Troupe (1987)
463. Theertha Karayinile (1987)
464. Ullam Kavarntha Kalvan (1987)
465. Vazha Vazharka (1987)
466. Velaikkaaran (1987)
467. Vetri Vizha (1987)
468. Raakshasudu (1986)
469. Kaveri (1986)
470. Poomukhappadiyil Ninneyum Kathu (1986)
471. Kiraathakudu (1986)
472. Aalaapana (1986)
473. Aappirikaavil Appu (1986)
474. Amman Koil Kizhakkaalae (1986)
475. Ananda Kannir (1986)
476. Aruvadhai Nall (1986)
477. December Pookkal (1986)
478. Dharma Pathni (1986)
479. Enakku Naaney Needhibadhi (1986)
480. Engal Thaikulame Varuga (1986)
481. Iravu Pookkal (1986)
482. Isai Paadum Thendral (1986)
483. Jadu Nagari (1986)
484. Kadolara Kavithaigal (1986)
485. Kallamellam Un Mediyil (1986)
486. Kannaththorakkanum Saami (1986)
487. Kannukku Mai Ezhuthu (1986)
488. Karimedu Karuvaayan (1986)
489. Kodai Mazhai (1986)
490. Maaveran (1986)
491. Manchi Manasulu (1986)
492. Mandhira Punnagai (1986)
493. Manithanin Maru Pakkam (1986)
494. Maragadha Veenai (1986)
495. Mela Thiranthathu Kadhavu (1986)
496. Mouna Ragam (1986)
497. Mr. Bharath (1986/I)
498. Mr. Bharath (1986/II)
499. Mudhal Vasantham (1986)
500. Murattu Karangal (1986)
501. Naanum Oru Thozhilaali (1986)
502. Nam Ooru Nalla Ooru (1986)
503. Natpu (1986)
504. Nee Thaana Andha Kuyil (1986)
505. Paaru Paaru Pattinam Paaru (1986)
506. Palavanai Rojakkal (1986)
507. Pudhir (1986)
508. Punnagai Mannan (1986)
509. Saadhanai (1986)
510. Sathyajothi (1986)
511. Sri Shirdi Saibaba Mahathyam (1986)
512. Thaiku Oru Thalattu (1986)
513. Thazhuvaatha Kaigal (1986)
514. Unakkagavey Vaazhkiren (1986)
515. Vidincha Kalyaanam (1986)
516. Vikram (1986/I)
517. Yaro Ezhuthia Kavithai (1986)
518. Yathra (1985)
519. Oka Radha Iddaru Krishnulu (1985)
520. Jwala (1985)
521. Aaj Ka Dada (1985)
522. Aan Paavam (1985)
523. Accident (1985)
524. Aduthathu Albert (1985)
525. Ajeya (1985)
526. Amudha Gaanam (1985)
527. Anbin Mugavari (1985)
528. Andha Oru Nimidam (1985)
529. Annai Bhoomi (1985)
530. Anveshana (1985)
531. Chinna Veedu (1985)
532. Darja Donga (1985)
533. Eetti (1985)
534. En Selvame (1985)
535. Gatti Melam (1985)
536. Geethanjali (1985)
537. Hello Yaar Peysaradhu (1985)
538. Idaya Kovil (1985)
539. Illali Sapadham (1985)
540. Jalsa Bullodu (1985)
541. Kaakki Sattai (1985)
542. Kanni Raasi (1985)
543. Khooni (1985)
544. Kunguma Chimizh (1985)
545. Ladies Tailor (1985)
546. Malargal Nanaiginrana (1985)
547. Mangalya Bandham (1985)
548. Meendum Paraasakthi (1985)
549. Mera Inteqam (1985)
550. Monagadu Mosagadu (1985)
551. Muthal Mariyathai (1985)
552. Muthyala Jallu (1985)
553. Naane Raja Naane Manthiri (1985)
554. Naan Sigappu Manithan (1985)
555. Nalla Thambi (1985)
556. Needhiyin Marupakkam (1985)
557. Padikkatha Panayar (1985)
558. Padikkathavan (1985)
559. Pagal Nilavu (1985)
560. Pillai Nila (1985)
561. Poovae Poo Chooda Vaa (1985)
562. Praja Poratam (1985)
563. Preminchu Pelladu (1985)
564. Pudhiya Theerppu (1985)
565. Raaja Gopuram (1985)
566. Rahasya Hanthakudu (1985)
567. Raja Rishi (1985)
568. Selvi (1985)
569. Shivabhakta Naga Shakti (1985)
570. Sindhu Bhairavi (1985)
571. Sree Raaghavendar (1985)
572. Swathi Muthyam (1985)
573. Thanga Mama (1985)
574. Thendraley Ennai Thodu (1985)
575. Udaya Geetham (1985)
576. Unnaith Thedi Varuven (1985)
577. Unn Kannil Neer Vazhindal (1985)
578. Urimai (1985)
579. Uyarntha Ullam (1985)
580. Challenge (1984)
581. Alai Osai (1984)
582. Alaya Deepam (1984)
583. Ambigai Neyril Vandhaal (1984)
584. Anbae Odi Vaa (1984)
585. Anbulla Malarae (1984)
586. Anbulla Rajanikant (1984)
587. Changa Naadham (1984)
588. Enakkul Oruvan (1984)
589. Etho Mogam (1984)
590. Ezhudhaantha Chattangal (1984)
591. Gadusu Pindam (1984)
592. Idhey Naa Savaal (1984)
593. Ingeyum Oru Gangai (1984)
594. Irupatthi Naalu Mani Neram (1984)
595. Jalsarayudu (1984)
596. Janavari Onnu (1984)
597. Jappanil Kalyanaraman (1984)
598. Kai Kodukkam Kai (1984)
599. Kairaasikkaran (1984)
600. Kalyana Kanavugal (1984)
601. Komberi Moogan (1984)
602. Kuvaakuvaa Vaththukkal (1984)
603. Magudi (1984)
604. Mangalam Nerunnu (1984)
605. Mayadari Mogudu (1984)
606. Meendumoru Kaadal Kathai (1984)
607. Merupudadi (1984)
608. Mudivilla Aarambam (1984)
609. Munthanai Mudichu (1984)
610. My Dear Kuttichaathan (1984)
611. Naagara Mahimey (1984)
612. Naalai Unathu Naal (1984)
613. Naan Mahaan Alla (1984)
614. Naan Paadum Paadal (1984)
615. Nalla Naal (1984)
616. Nallavanukku Nallavan (1984)
617. Neengal Kettavai (1984)
618. Nee Thodumbodhu (1984)
619. Neram Nalla Neram (1984)
620. Neruppukkul Eeram (1984)
621. Nilavu Sudavathillai (1984)
622. Noorava Roju (1984)
623. Nooravathunaal (1984)
624. Nuvva Nena (1984)
625. Nyayam (1984)
626. O Maaney Maaney (1984)
627. Onnanu Nammal (1984)
628. Oru Kaidhiyin Diary (1984)
629. Poo Vilangu (1984)
630. Pozhudhu Vidinjaachchu (1984)
631. Prema Sangamam (1984)
632. Saahasamey Jeevitham (1984)
633. Sanganatham (1984)
634. Takkaridonga (1984)
635. Thalayanai Mandhiram (1984)
636. Thambikku Entha Ooru (1984)
637. Thangamadi Thangam (1984)
638. Tiger Rajani (1984)
639. Ullam Urugudhudai (1984)
640. Unaroo (1984)
641. Unnai Naan Santhithen (1984)
642. Vaidehi Kaathirundaal (1984)
643. Vazhkai (1984)
644. Veerabhadhrudu (1984)
645. Vellai Pura Ondru (1984)
646. Manthrigari Viyyankudu (1983)
647. Abhilasha (1983/I)
648. Aanadha Gummi (1983)
649. Aa Rathri (1983)
650. Aayiram Nilavae Vaa (1983)
651. Adutha Varisu (1983)
652. Andha Sila Naatkal (1983)
653. Anney Anney (1983)
654. Bhagavathipuram Railway Gate (1983)
655. Devi Sridevi (1983)
656. Dhavani Kannavukal (1983)
657. Ennai Paar Enn Azhagai Paar (1983)
658. Eththanai Konam Eththanai Paarvai (1983)
659. Ilamai Idho Idho (1983)
660. Ilamai Kaalangal (1983)
661. Indru Nee Nalai Naan (1983)
662. Jyothi (1983)
663. Kann Sivanthaal Mann Sivakkum (1983)
664. Kokkarako (1983)
665. Malayur Mambattiyaan (1983)
666. Manaivi Solle Manthiram (1983)
667. Man Vasanai (1983)
668. Mella Pesungal (1983)
669. Moondram Pirai (1983)
670. Muththu Engal Choththu (1983)
671. Niyaaya Geththidhu (1983)
672. Odai Nathiyaakirathu (1983)
673. Oomai Kuyil (1983)
674. Oppandham (1983)
675. Paayum Puli (1983) (as Ilaiyaraaja)
676. Pallavi Anu Pallavi (1983)
677. Pin Nilavu (1983)
678. Pudumai Penn (1983)
679. Raagangal Maruvathillai (1983)
680. Raj Kumar (1983)
681. Saattayillatha Pambaram (1983)
682. Sadma (1983) (as Ilaaiyaraaja)
683. Sagara Sangamam (1983)
684. Sandhyakku Virinja Poovu (1983)
685. Sitaara (1983)
686. Soorakkottai Singakkuutti (1983)
687. Thanga Magan (1983)
688. Thoongathey Tambi Thoongathey (1983)
689. Urangaadha Nenjangal (1983)
690. Veetila Raaman Veliyila Krishnan (1983)
691. Vellai Roja (1983)
692. Yuga Dharmam (1983)
693. Aagaaya Gangai (1982)
694. Aananda Raagam (1982)
695. Alolam (1982)
696. Angadhudu (1982)
697. Archchanai Pookkal (1982)
698. Auto Raja (1982)
699. Azhagiya Kanney (1982)
700. Boom Boom Madu (1982)
701. Eera Vizhi Kaaviyangal (1982)
702. Engeyo Ketta Kural (1982)
703. Gopurangal Saayvathillai (1982)
704. Hitler Umanath (1982)
705. Ilanjodigal (1982)
706. Kalyana Kalam (1982)
707. Kanney Raadha (1982)
708. Kanya Dweep (1982)
709. Kathal Ovium (1982)
710. Kavitha Malar (1982)
711. Kelviyum Naaney Badhilum Naaney (1982)
712. Kozhi Koovuthu (1982)
713. Lottery Ticket (1982)
714. Maganey Maganey (1982)
715. Manjal Nila (1982)
716. Marumagaley Varuga (1982)
717. Metti (1982)
718. Nalanthana (1982)
719. Nenjalgal (1982)
720. Ninaivellam Nitya (1982)
721. Nireekshana (1982)
722. Nizhal Thedum Nenjangal (1982)
723. Olangal (1982)
724. Pakkathu Veetu Roja (1982)
725. Pannaipurathu Pandavargal (1982)
726. Paritchaikku Neramchu (1982)
727. Payanangal Mudivathillai (1982)
728. Pokkiri Raja (1982)
729. Poolapallakki (1982)
730. Pudhu Kavithai (1982)
731. Ranga (1982)
732. Raniththeni (1982)
733. Sakala Kala Vallavan (1982)
734. Sangili (1982)
735. Thai Mookambhikai (1982)
736. Thanikatu Raja (1982)
737. Theerpu (1982)
738. Thooral Ninnu Pochhu (1982)
739. Thyagi (1982)
740. Vaa Kanna Vaa (1982)
741. Valibamey Vaa Vaa (1982)
742. Yechchil Iravugal (1982)
743. Aaradhanai (1981)
744. Alaigal Ooivathilai (1981)
745. Amaavaasya Chandhrudu (1981)
746. Balanagamma (1981)
747. Bhari Bharjari Bete (1981)
748. Chinnaari Chittibaau (1981)
749. Do Dil Diwane (1981)
750. Ellaam Inbamayam (1981)
751. Enakkaga Kaathiru (1981)
752. Garjanai (1981)
753. Indru Poyi Naalai Vaa (1981)
754. Kadal Meengal (1981)
755. Kalthoon (1981)
756. Kanniththeevu (1981)
757. Karaiyellam Shenbagappoo (1981)
758. Kazhagu (1981)
759. Koyil Pura (1981)
760. Madhumalar (1981)
761. Meendum Kokila (1981)
762. Nalladhu Nadandhey Theerum (1981)
763. Nandu (1981)
764. Nee Nanna Gellare (1981)
765. Nenjathai Killathe (1981)
766. Netri Kann (1981)
767. Oru Iravu Oru Paravai (1981)
768. Panneer Pushpangal (1981)
769. Pennin Vazhkai (1981)
770. Prema Pichchi (1981)
771. Raaja Paarvai (1981)
772. Rajangam (1981)
773. Rama Lakshman (1981)
774. Ranuva Veeran (1981)
775. Rattha Katteriyin Marma Maligai (1981)
776. Seethakoka Chilaka (1981)
777. Shankarlal (1981)
778. Shikari (1981)
779. Sollaathey Yaarum Keyttaal (1981)
780. Tik Tik Tik (1981)
781. Vidiyum Vari Kaathiru (1981)
782. Kaali (1980)
783. Anbukku Naan Adimai (1980)
784. Ayiram Vaasal Idhayam (1980)
785. Dhooramarigey (1980)
786. Ellaam Un Kairaasi (1980)
787. Enga Oor Rasathi (1980)
788. Geetha (1980)
789. Graamathu Aathiyam (1980)
790. Guru (1980)
791. Idhayathiley Oru Idam (1980)
792. Ilamai Kolam (1980)
793. Janma Janmada Anubandha (1980)
794. Kaalrathiri (1980)
795. Kallukkul Eeram (1980)
796. Kannil Theriyum Kadhaigal (1980)
797. Karumbu Vil (1980)
798. Kotha Jeevithalu (1980)
799. Maayadhaari Krishnudu (1980)
800. Manju Moodal Manju (1980)
801. Moodupani (1980)
802. Murattu Kaalai (1980)
803. Naan Potta Savaal (1980)
804. Nadhiye Thedi Vandha Kadal (1980)
805. Nizhalgal (1980)
806. Orey Muththam (1980)
807. Pasidi Moggalu (1980)
808. Ponnagaram (1980)
809. Rishi Moolam (1980)
810. Rusi Kanda Poonai (1980)
811. Samanthi Poo (1980)
812. Savithri (1980)
813. Soolam (1980)
814. Sridevi (1980)
815. Thayi Pongal (1980)
816. Ullasa Paravaigal (1980)
817. Aarilirindhu Aruvathu Varai (1979)
818. Agal Vilakku (1979)
819. Ammaa Evarigaina Amma (1979)
820. Anbae Sangeetha (1979)
821. Annai Oru Aalayam (1979)
822. Azhage Unnai Aarathikkirean (1979)
823. Chella Kili (1979)
824. Devathai (1979)
825. Dharma Yuddham (1979)
826. Johnny (1979)
827. Kadavul Amaitha Medai (1979)
828. Kalyanaraman (1979)
829. Kavariman (1979)
830. Kuppathu Raja (1979)
831. Lakshmi (1979)
832. Mudhal Iravu (1979)
833. Mugaththil Mugam Paarkkalaam (1979)
834. Naan Vaazha Vaippen (1979)
835. Nallathoru Kudumbam (1979)
836. Niram Maaratha Pookkal (1979)
837. Pagalil Oru Iravu (1979)
838. Pancha Bhoothalu (1979)
839. Pattakkatti Bairavan (1979)
840. Ponnu Oorukku Pudhusu (1979)
841. Poonthalir (1979)
842. Poottata Pootukkal (1979)
843. Puthiya Vaarpugal (1979)
844. Rosaappo Ravikkai Kaari (1979)
845. Sakkalathi (1979)
846. Thai Illamal Naan Illai (1979)
847. Urvasi Niney Naa Priyasi (1979)
848. Utharipookal (1979)
849. Vetrikku Oruvan (1979)
850. Yerra Gulabi (1979)
851. Yugandhar (1979)
852. Sigappu Rojakkal (1978)
853. Aaru Manikkoor (1978)
854. Achchanai (1978)
855. Aval Appadithaan (1978)
856. Aval Oru Pachchaikkuzhandhai (1978)
857. Bhairavi (1978)
858. Chattam En Kaiyil (1978)
859. Chittu Kuruvi (1978)
860. Chonnadhu Nithaana (1978)
861. Ilamai Oonjal Aadukirathu (1978)
862. Ithu Eppadi Irukku (1978)
863. Kaatrinile Varum Geetham (1978)
864. Kannan Oru Kai Kuzhandhai (1978)
865. Kizhake Pogum Rail (1978)
866. Maariyamman Thiruvizha (1978)
867. Maathu Thappadha Maga (1978)
868. Mullum Malarum (1978)
869. Priya (1978)
870. Rowdy Rajani (1978)
871. Sondhadu Needana (1978)
872. Thiru Kalyaanam (1978)
873. Thyaagam (1978)
874. Tripura Sundari (1978)
875. Vaazha Ninaiththaal Vaazhalaam (1978)
876. Vattathukkul Chathuram (1978)
877. Vayasu Pilichindi (1978)
878. Alukkoru Aasai (1977)
879. Avar Enakke Sontham (1977)
880. Bhuvana Oru Kelvikkuri (1977)
881. Dheepam (1977)
882. Dhurga Dhevi (1977)
883. Gayatri (1977)
884. Kavikuyil (1977)
885. Odi Vilaiyaadu Thaaththaa (1977)
886. Pathinaru Vayathinile (1977)
887. Pen Jenman (1977)
888. Sainthadamma Sainthadu (1977)
889. Thunaiyiruppaal Meenatchi (1977)
890. Vyamoham (1977)
891. Annakili (1976)
892. Athirshtam Azhaikkirathu (1976)
893. Badra Kali (1976)
894. Paalooti Valartha Kili (1976)
895. Uravaadum Nenjam (1976)

Music Department:
1. Azhagai Irukirai... Bayamai Irukiradhu (2006) (playback singer)
2. Athu Oru Kanaa Kaalam (2005) (playback singer)
3. Oru Naal Oru Kanavu (2005) (playback singer)
4. Mumbai Express (2005) (playback singer)
5. Annan (1999) (playback singer)
6. Kummi Paattu (1999) (playback singer)
7. Manam Virumbuthey Unnai (1999) (playback singer)
8. Nilavey Mugam Kaattu (1999) (playback singer)
9. Ponnu Veetukkaran (1999) (playback singer)
10. Sethu (1999) (playback singer)
11. Kangalin Vaarthaigal (1998) (playback singer)
12. Kannathaal (1998) (playback singer)
13. Kavala Padathey Sahothara (1998) (playback singer)
14. Kizhakkum Maerkkum (1998) (playback singer)
15. Kumbakonam Gopalu (1998) (playback singer)
16. Poonthottam (1998) (playback singer)
17. Senthooram (1998) (playback singer)
18. Thalaimurai (1998) (playback singer)
19. Veera Thaalaattu (1998) (playback singer)
20. Devathai (1997) (playback singer)
21. Kaadhalukku Mariyaadai (1997) (playback singer)
22. Kaliyoonjal (1997) (musical director) (playback singer)
23. Oru Yaatra Mozhi (1997) (playback singer)
24. Thenmaangu Paattu Karan (1997) (playback singer)
25. Vasuki (1997) (playback singer)
26. Gulaabi (1996) (playback singer)
27. Irattai Roja (1996) (playback singer)
28. Katta Panchayathu (1996) (playback singer)
29. Nammoora Mandaara Hoove (1996) (playback singer)
30. Poomani (1996) (playback singer)
31. Shiva Sainya (1996) (playback singer)
32. Aanazhagan (1995) (playback singer)
33. Avathaaram (1995) (playback singer)
34. Ellaame En Raasa Thaan (1995) (playback singer)
35. Maya Bazaar (1995) (playback singer)
36. Paattu Paadava (1995) (playback singer)
37. Paattu Vaathiyaar (1995) (playback singer)
38. Raasaiyya (1995) (playback singer)
39. Thedi Vandha Raasa (1995) (playback singer)
40. Adharmam (1994) (playback singer)
41. Kanmani (1994) (playback singer)
42. Priyanka (1994) (playback singer)
43. Pudhuppaatti Ponnuthaayi (1994) (playback singer)
44. Aranmanai Kili (1993) (playback singer)
45. Chinna Jameen (1993) (playback singer)
46. Druva Natchathiram (1993) (playback singer)
47. Ezhai Jaadhi (1993) (playback singer)
48. I Love India (1993) (playback singer)
49. Kaathirukka Neramillai (1993) (playback singer)
50. Mahanadi (1993) (playback singer)
51. Ponnumani (1993) (playback singer)
52. Sakkarai Thevan (1993) (playback singer)
53. Thaalaattu (1993) (playback singer)
54. Udanpirappu (1993) (playback singer)
55. Valli (1993) (playback singer)
56. Bharathan (1992) (playback singer)
57. Chembaruthi (1992) (playback singer)
58. Chinna Thaayi (1992) (playback singer)
59. Deiva Vaakku (1992) (playback singer)
60. Guna (1992) (playback singer)
61. Innisai Mazhai (1992) (playback singer)
62. Kalikaalam (1992) (playback singer)
63. Marutode Naa Mogudu (1992) (playback singer)
64. Naangal (1992) (playback singer)
65. Nadodi Paattukkaran (1992) (playback singer)
66. Pattu Dala (1992) (playback singer)
67. Ponnukkeetha Purushan (1992) (playback singer)
68. Pudhiya Swarangal (1992) (playback singer)
69. Thai Mozhi (1992) (playback singer)
70. Unna Nenachen Paattu Padicchen (1992) (playback singer)
71. Va Va Vasanthame (1992) (playback singer)
72. Chinna Gounder (1991) (playback singer)
73. En Arukil Nee Irundhaal (1991) (playback singer)
74. Idhayam (1991) (playback singer)
75. Keechu Raallu (1991) (playback singer)
76. Kumbakarai Thangaiah (1991) (playback singer)
77. Michael Madana Kamarajan (1991) (playback singer)
78. Oorellam Un Paattu (1991) (playback singer)
79. Pudhiya Raagam (1991) (playback singer)
80. Pudhu Nellu Puddhu Nathu (1991) (playback singer)
81. Saami Potta Mudhichhu (1991) (playback singer)
82. Sir... I Love You (1991) (playback singer)
83. Thaalaattu Kekkuthamma (1991) (playback singer)
84. Thambikku Oru Paattu (1991) (playback singer)
85. Vanna Vanna Pookkal (1991) (playback singer)
86. Vetri Padigal (1991) (playback singer)
87. Amman Koil Thiruvizha (1990) (playback singer)
88. Edhir Katru (1990) (playback singer)
89. En Uyir Thozhan (1990) (playback singer)
90. Kavalukku Kettikaran (1990) (playback singer)
91. Keladi Kanmani (1990) (playback singer)
92. Kizhakku Vasal (1990) (playback singer)
93. Marudu Pandi (1990) (playback singer)
94. Pagalil Pournami (1990) (playback singer)
95. Periya Veettu Panakkaran (1990) (playback singer)
96. Pondaatti Thevai (1990) (playback singer)
97. Pudhu Paatu (1990) (playback singer)
98. Pulan Visaaranai (1990) (playback singer)
99. Raja Kaiye Vacha (1990) (playback singer)
100. Sirayil Sila Raagangal (1990) (playback singer)
101. Thaalaattu Paadava (1990) (playback singer)
102. Unnai Solli Kutramillai (1990) (playback singer)
103. Vellaya Thevan (1990) (playback singer)
104. Shiva (1989/I) (conductor) (as Ilaiya Raaja)
105. Anbu Kattalai (1989) (playback singer)
106. Dharmam Vellum (1989) (playback singer)
107. Enga Ooru Maappilai (1989) (playback singer)
108. Ennai Petha Raasa (1989) (playback singer)
109. Kaiveesu Amma Kaiveesu (1989) (playback singer)
110. Karagaattakkaaran (1989) (playback singer)
111. Ninaivu Chinnam (1989) (playback singer)
112. Paandi Naattu Thangam (1989) (playback singer)
113. Paattukku Oru Thalaivan (1989) (playback singer)
114. Padicha Pulla (1989) (playback singer)
115. Pongi Varum Kaveri (1989) (playback singer)
116. Pudhu Pudhu Arthangal (1989) (playback singer)
117. Raaja Raajathaan (1989) (playback singer)
118. Thangamaana Raasa (1989) (playback singer)
119. Thendral Sudum (1989) (playback singer)
120. Thiruppu Munai (1989) (playback singer)
121. En Bommukutty Ammavukku (1988) (playback singer)
122. Enga Ooru Kaavakkaaran (1988) (playback singer)
123. En Jeevan Paaduthe (1988) (playback singer)
124. Ennai Vittu Pokaathe (1988) (playback singer)
125. En Uyir Kannamma (1988) (playback singer)
126. Irandil Ondru (1988) (playback singer)
127. Ithu Engal Neethi (1988) (playback singer)
128. Naan Sonnathey Sattam (1988) (playback singer)
129. Paadaatha Thaeneekal (1988) (playback singer)
130. Paasa Paravaigal (1988) (playback singer)
131. Poonthotta Kaavalkkaaran (1988) (playback singer)
132. Sakkarai Pandhal (1988) (playback singer)
133. Sembagame Sembagame (1988) (playback singer)
134. Solla Thudikkuthu Manasu (1988) (playback singer)
135. Chinna Kuyil Paattu (1987) (playback singer)
136. Enga Ooru Paattukkaaran (1987) (playback singer)
137. Graamathu Minnal (1987) (playback singer)
138. Indian Summer (1987) (composer: additional music) (as Ilaya Raja)
139. Krishnan Vandaan (1987) (playback singer)
140. Manaivi Ready (1987) (playback singer)
141. Vazha Vazharka (1987) (playback singer)
142. Aruvadhai Nall (1986) (playback singer)
143. Dharma Pathni (1986) (playback singer)
144. Kadolara Kavithaigal (1986) (playback singer)
145. Kannukku Mai Ezhuthu (1986) (playback singer)
146. Karimedu Karuvaayan (1986) (playback singer)
147. Kodai Mazhai (1986) (playback singer)
148. Mandhira Punnagai (1986) (playback singer)
149. Murattu Karangal (1986) (playback singer)
150. Nee Thaana Andha Kuyil (1986) (playback singer)
151. Palavanai Rojakkal (1986) (playback singer)
152. Thaiku Oru Thalattu (1986) (playback singer)
153. Vidincha Kalyaanam (1986) (playback singer)
154. Geethanjali (1985) (playback singer)
155. Meendum Paraasakthi (1985) (playback singer)
156. Naan Sigappu Manithan (1985) (playback singer)
157. Needhiyin Marupakkam (1985) (playback singer)
158. Thanga Mama (1985) (playback singer)
159. Udaya Geetham (1985) (playback singer)
160. Uyarntha Ullam (1985) (playback singer)
161. Ingeyum Oru Gangai (1984) (playback singer)
162. Jappanil Kalyanaraman (1984) (playback singer)
163. Kairaasikkaran (1984) (playback singer)
164. Magudi (1984) (playback singer)
165. Merupudadi (1984) (playback singer)
166. Munthanai Mudichu (1984) (playback singer)
167. Poo Vilangu (1984) (playback singer)
168. Unnai Naan Santhithen (1984) (playback singer)
169. Vaidehi Kaathirundaal (1984) (playback singer)
170. Vazhkai (1984) (playback singer)
171. Bhagavathipuram Railway Gate (1983) (playback singer)
172. Malayur Mambattiyaan (1983) (playback singer)
173. Pudumai Penn (1983) (playback singer)
174. Thoongathey Tambi Thoongathey (1983) (playback singer)
175. Vellai Roja (1983) (playback singer)
176. Aananda Raagam (1982) (playback singer)
177. Auto Raja (1982) (playback singer)
178. Eera Vizhi Kaaviyangal (1982) (playback singer)
179. Metti (1982) (playback singer)
180. Sakala Kala Vallavan (1982) (playback singer)
181. Thai Mookambhikai (1982) (playback singer)
182. Bhari Bharjari Bete (1981) (playback singer)
183. Ellaam Inbamayam (1981) (playback singer)
184. Enakkaga Kaathiru (1981) (playback singer)
185. Karaiyellam Shenbagappoo (1981) (playback singer)
186. Kazhagu (1981) (playback singer)
187. Rusi Kanda Poonai (1980) (playback singer)
188. Anbae Sangeetha (1979) (playback singer)
189. Kadavul Amaitha Medai (1979) (playback singer)
190. Lakshmi (1979) (playback singer)
191. Ponnu Oorukku Pudhusu (1979) (playback singer)
192. Sakkalathi (1979) (playback singer)
193. Tripura Sundari (1978) (playback singer)

Soundtrack:
1. Lajja (2001) (music: "Kaun Dagar Kaun Shehar")
2. Aakhari Poratam (1988) (music: "Tella Cheeraku", "Eppudu Eppudu")

Writer:
1. Nadodi Thendral (1992) (story)

Actor:
1. Pudhu Pudhu Arthangal (1989)

Self:
1. Paal Nilappaadhaiyil (2002) .... Himself