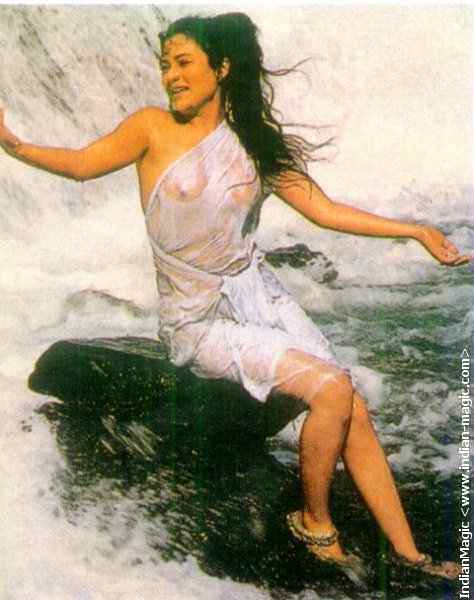 Mandakini (born 1969, as Janki Roy) is a former Bollywood actress. She had a brief, but controversial career in Hindi movies and was rumoured to have a close relationship with Dubai-based gangster, Dawood Ibrahim

Early career
Mandakini became a household name after her first movie itself. At the age of 16, she was cast in the lead role in Raj Kapoor's 1985 movie, Ram Teri Ganga Maili opposite his youngest son, Rajiv Kapoor. The movie was a hit, and it caused a huge stir because of two scenes - one in which Mandakini bathes in a waterfall wearing only a flimsy white saree through which her breasts were clearly visible, and another in which she was shown breast-feeding a child. Some critics claimed that the scenes were vulgar and exploitative, and were used to get around the Indian Film Censor Board's stringent rules against nudity. Raj Kapoor defended the inclusion of the scenes stating that they were tasteful.


Mandakini also acted in a few more successful films, such as Dance Dance, with Mithun Chakraborty and Pyaar Karke Dekho with Govinda, but never managed to recreate the success of her first movie.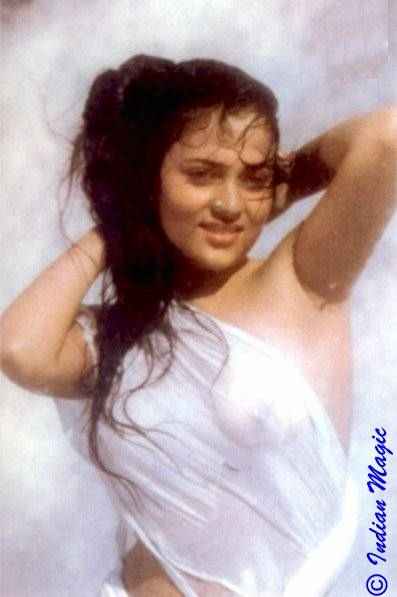 The Dawood Connection

In 1994, photographs began circulating of Mandakini in the presence of dreaded gangster Dawood Ibrahim. Rumours had already been doing the rounds that the two were an item, and these only served to fuel them. One of the theories put forward was that Ibrahim, who was known to have a keen interest in Bollywood and had even financed movies, had pressured Raj Kapoor into casting Mandakini, who was actually his mistress. Later, it was reported that she had even moved to Dubai to be with him.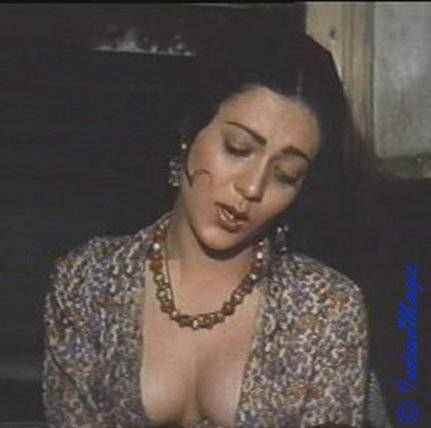 Mandakini vehemently denied all rumours linking her to Dawood. While she admitted to knowing him and being on friendly terms with him, she claimed that they did not know each other personally, let alone being a couple. She also pointed out that she had been married to R. Thakur, a doctor in Mumbai, and even gave birth to a son in 1995.


However, the rumours never ceased. In fact, the theories grew more and more complicated. One such theory was that Mandakini was not, in fact, involved with Dawood, but with his brother Anees, whom she had secretly married. It was also rumoured that she had had a son from one of the brothers who was being brought up in the USA.

Later Career
In the midst of all this controversy, Mandakini's career suffered a serious setback. She quit movies after Zordaar in 1996, and has lived in Mumbai since, with her husband and son. Since then, she has made attempts to reinvent herself. She released two pop music albums - No Vacancy and Shambala - neither of which was a success. Currently, she runs classes in Tibetan yoga and is reportedly a follower of the Dalai Lama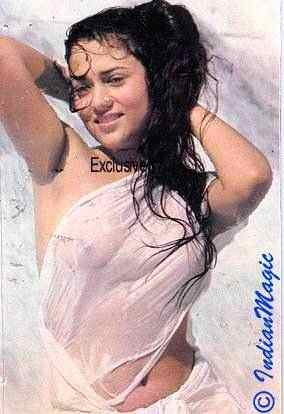 Filmography

Actress:

1. Zordaar (1996) .... Neha
2. Pyaar Ke Naam Qurban (1990) .... Devika
3. Dushman (1990)
4. Jaan-E-Wafa (1990)
5. Naya Khoon (1990) .... Dr. Seema
6. Shandaar (1990) .... Anita Chaurasia
7. Sheshnaag (1990)
8. Ladaai (1989) .... Geeta
9. Desh Ke Dushman (1989)
10. Hisaab Khoon Ka (1989) .... Preet K. Kaushal
11. Na-Insaafi (1989) .... Kamli
12. Jung Baaz (1989) .... Sangeeta Mathur/Neena Ninjo
13. Aakhri Baazi (1989) .... Rita
14. Kahan Hai Kanoon (1989)
15. Naag Nagin (1989)
16. Agnee (1988) .... Ayushi

17. Tezaab Is Acid (1988) .... Nikita (special appearance)
18. Maalamaal (1988) .... Honey
19. Hum To Chale Pardes (1988)
20. Commando (1988) .... Asha Malhotra
21. Shoorveer (1988) .... Meena
22. Jeete Hain Shaan Se (1988) .... Julie
23. Pyaar Mohabbat (1988)
24. Param Dharam (1987) .... Bijli
25. Hawalaat (1987) .... Leela
26. Dance Dance (1987) .... Janita
27. Pyaar Karke Dekho (1987) .... Urvashi
28. Loha (1987)
29. Apne Apne (1987) .... Ila
30. Jaal (1986) .... Madhu
31. Aag Aur Shola (1986) .... Usha
32. Jeeva (1986)

33. Simhasanam (1986)
34. Singhasan (1986) .... Chandana Gandh
35. Ram Teri Ganga Maili (1985) .... Ganga Singh
36. Mera Saathi (1985) .... Shanthi

Self:

1. Ram Jaane (1995) (uncredited) .... Herself (a scene from a movie)
2. Raj Kapoor (1987) .... Herself (during funeral)