Date of Birth: 19 July 1956, Nimmakuru, Krishna District, Andhra Pradesh, India
Gadde Rajendra Prasad known as Rajendra Prasad is a Telugu film actor. He was born in a middle class family from Nimmakuru, Krishna District. He acquired engineering degree from andhra university but preferred a career in acting. After initial hardships in search of a break in the film industry, he got a role in the movie Sneham. During the intitial phase of his career he got petty roles but emerged as very popular comedy actor in the decade of eighties and nineties starting from Ladies Tailor (1985). He is fondly called as King of Comedy by his fans.
* Nandi Award for Best Actor(1991) for Erra Mandaram.

* Nandi Award for Best Actor(2004) for Aa Naluguru.

Filmography

1. Me Sreyobhilashi (2007)
2. Sarada Saradaga (2006)
3. Bhagyalakshmi Bumper Draw (2006) .... Bullebbai
4. Andagadu (2005)
5. Andaru Dongale Dorikithe (2004) .... Thief
6. Aa Naluguru (2004)
7. Apparao Driving School (2004)
8. Srirama Chandrulu (2003)
9. Layola College (2002)
10. Sandade Sandadi (2002) .... Balasubramaniam
11. Ammaye Navvithe (2001) .... Sundaram
12. Happy Birthday (2001)
13. Daddy (2001/I) .... Prasad
14. Akasa Veedhilo (2001) .... Suri
15. Ammaye Navvete (2001)
16. Ammo Bomma (2001)
17. Dabbu Evariki Chedu (2001)
18. Miss Mumtaj (2001)
19. Family Circus (2001) .... Pataudi

20. Apparao Ki Oka Nela Thappindi (2001)
21. Devullu (2001) .... Lord Hanuman 22. Ninne Premista (2000)
23. Mee Aayana Jagratha (2000) .... Gopi
24. Kshemanga Velli Labanga Randi (2000)
25. Yamajaathakudu (1999)
26. Kannayya Kittayya (1999)
27. Chinni Chinni Aassa (1999)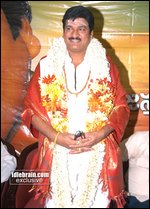 28. Antha Manamanchike
29. All Rounder (1998)
30. Ulta Palta (1998)
31. Pellikoduku Ammabadunu (1998) 32. Hitler (1997) .... Balu
33. Meeaayana Jagarathha (1997)
34. Jai Bajrangbali (1997)
35. Taali (1997)
36. Mama Bagunnavaa (1997)
37. Navvulata
38. Family (1996)
39. Rambantu (1996) .... Rambantu.
40. Mummy Mee Aayanochhadu
41. Topiraja Sweetyroja (1995)
42. Ketu Duplicate (1995)
43. Oddhu Bhava Thappu
44. Linga Babu Love Story (1995) .... Lingababu
45. Alibaba Aradajanu Dongalu (1994) .... Alibaba

46. Brahmachari Mogudu (1994) .... Rambabu
47. Allarudu
48. Shrinatha Kavi Sarvabhowma (1993)
49. Aa Okkati Adakku (1993) .... Atukula Chitti Babu
50. Akka Pettanam Chelleli Kapuram (1993)
51. Joker (1993) .... Balaji
52. Madam (1993) .... Prasad/Madam Sarojini/Mandakini

53. Mayalodu (1993) .... Veera Babu
54. Mr. Pellam (1993) .... Bava
55. Parugo Parugu (1993)
56. Pekata Paparao (1993) .... Paparao
57. Rajendrudru Gajendrudru (1993) .... Rajendra
58. Brindavanam (1992)
59. Valujeda Tholubelt
60. Sithapathi Chalothirupathi (1992) 61. Pellaniki Premalekha Priyuraliki Subhalekha (1992)

62. Golmaal Govindan (1992) .... Govindam
63. Pelli Pustakam (1991) .... K.Krishnamurthi.
64. Appula Appa Rao (1991) .... Appa Rao
65. April 1st Vidudhala (1991) .... Diwakaram
66. Edurinti Mogudu Pakkinti Pellam (1991) .... Bava (Badarabandi Varaprasad)
67. Prema Thapassu

68. Iddaru Pellala Muddula Police (1991)
69. Kobbari Bondam (1991) .... Raju
70. Yerra Mandaram (1991)
71. Minor Raja (1991)
72. Theneteega (1991)
73. Vichitra Prema
74. Bamma Maata Bangaru Baata (1990)
75. Chevilo Puvvu (1990)
76. Jayammu Nischayammu Raa! (1990) .... Ramudu
77. Bandhuvulostunnaru Jagratha (1989)

78. Chalaki Mogudu Chadastapu Pellam (1989) .... Giri
79. Chettu Kinda Pleader (1989) .... Balaraju
80. Mutyamantha Muddu (1989) .... Anudeep
81. Bava Marudula Sawal (1988)
82. Chikkadu Dorakadu (1988)
83. Chinnodu Peddodu (1988)
84. Donga Kollu (1988)
85. Bharya Bharthalu Bhagatham (1988)
86. Jeevana Ganga (1988)
87. Kanoon Ki Hathkadee (1988)
88. Jhansi Rani (1988)
89. Pelli Chesi Choodu (1988) .... Mohan

90. Sahasam Cheyara Dimbhaka (1988) .... Chandram
91. Samsaram (1988)
92. Station Master (1988)
93. Aani Muthyam (1988)
94. Aasthulu Anthasthulu (1988)
95. Vivaaha Bhojanambu (1988) .... Sita Rama Rao
96. Damit Katha Adam Thirigindi (1987)
97. Aha Naa Pellanta (1987)
98. Bhale Mogudu (1987)
99. Gandhinagar Rendo Veedhi (1987)

100. Aranya Kanda (1987)
101. Thrimurthlu
102. Udayam
103. Kaaboye Alludu (1987)
104. Dabbevariki Chedu (1987)
105. Gundammagari Krishnulu (1987)
106. Naku Pellam Kavali (1987)
107. Samsaaram Oka Chadarangam (1987)
108. Raakshasudu (1986)
109. Brahmasthram (1986)
110. Padaharella Ammayi (1986)
111. Pavithra (1986)
112. Rendu Rendu Aaru (1986)
113. Punyasthri (1986)
114. Captain Nagarjuna (1986)
115. Kashmora (1986)
116. Karu Diddina Kapuram (1986)

117. Oka Radha Iddaru Krishnulu (1985)
118. Puli (1985)... aka Tiger
119. Desamlo Dongalupaddaru (1985)
120. Kothapelli Kuthuru (1985)
121. Musugu Donga (1985)
122. Kathhula Kondayya (1985)
123. Ladies Tailor (1985)
124. Muchataga Mugguru (1985)
125. Ottuku Viluva Ivvandi (1985)
126. Agraham (1985)
127. Anadiga Adadi
128. Ada Pillale Nayam (1985)
129. Preminchu Pelladu (1985)
130. Rendu Rella Aaru (1985) .... Madhava Rao
131. Swathi(1985)
132. Vande Mataram (1985)
133. Challenge (1984) .... Vidyaarthi
134. Rojulu Marayi (1984)
135. Aakali Neeku Joharlu (1984)
136. Ee Chaduvulu Makkodu (1984)
137. Adavallu Aligithe (1983)
138. Ee Desamlo Oka Roju (1983)
139. Ee Pillaku Pellavuthundha (1983)
140. Idi Kaadhu Mugimpu (1983)
141. Mundadugu (1983)
142. Navodayam (1983)
143. Pelli Choopulu (1983)
144. Rama Rajyamlo Bheermaraju (1983)
145. Manchupallaki (1982)..
146. Ee Charitra Ae Siratho (1982)
147. Moodumulla Bandham (1980)
148. Adadhee Gadapa Datithe (1980)
149. Nijam (1980)
150. Sneham (1977)

Producer:
1. Rambantu (1996) (producer)

2. Madam (1993) (producer)
3. Khatron Ke Khiladi (1988) (producer)

Miscellaneous Crew:
1. Thenali (2000) (voice double: Jayaram) (Telugu version)
2. Damit Katha Adam Thirigindi (1987) (presenter)
Music Department:
1. Ammaye Navvithe (2001) (playback singer)