U

ppalapati Venkata Krishnam Raju (born January 20, 1940) is a former popular Telugu film actor. He is the uncle of fellow actorPrabhas .
He starred in some 183 Telugu films in his career and was a prominent actor of the 1970s and 1980s in Tollywood.
He has since become active in politics.He joined Bharatiya Janata Party and was elected to Lok Sabha from Narasapur.He served as a minister of state for external affairs in Third Vajpayee Ministry.
Profile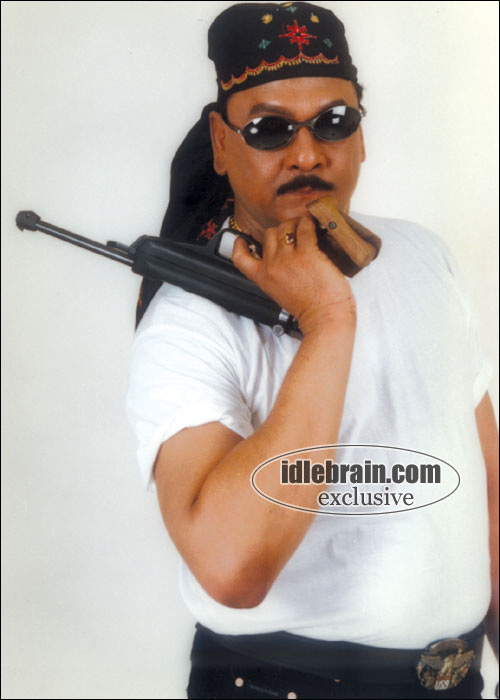 Father's Name Late Shri Uppalapati Veera Venkata Satyanarayana Raju
Date of Birth 20 January 1940
Place of Birth Mogaltur, Distt. West Godavari (Andhra Pradesh)
Marital Status Married
Date of Marriage 20 September 1996
Spouse's Name Smt. U. Shyamala Devi
No. of Daughters Three
Educational Under Graduate
Qualifications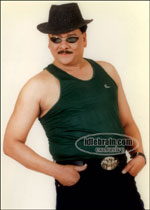 Profession Agriculturist, Artist and Former Ruler
Permanent Address Vill. Mogaltur, Mandal Narasapur,
Distt. West Godavari-505 209
(Andhra Pradesh)
Tel. (08814) 47474
Positions Held
1998 Elected to 12th Lok Sabha
1998-99 Member, Committee on Commerce
Member, Consultative Committee, Ministry of Information and Broadcasting
1999 Re-elected to 13th Lok Sabha (2nd term)
Whip, B.J.P. Parliamentary Party, Lok Sabha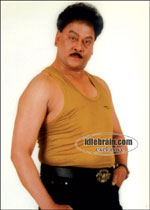 1999-2000 Member, Committee on Finance
Member, Committee on Members of Parliament Local Area Development
Scheme
2000 Member, Consultative Committee, Ministry of Commerce and Industry
30 Sept. 2000- Union Minister of State, Ministry of External Affairs
22 July 2001
22 July 2001- Union Minister of State, Ministry of Defence
30 June 2002
1 July 2002 - Union Minister of State, Ministry of Consumer Affairs , Food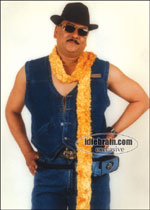 onwards & Public Distribution
Literary, Artistic and Scientific Accomplishments
Research in yoga, Hinduism and Culture; as film actor, in Telugu won several awards
Social and Cultural Activities
Worked for the relief of cyclone affected people; collected funds for the rehabilitation of families
of police personnel; and instrumental in establishing open air theatres at Nellore, Ellore
and Vijayawada, Andhra Pradesh
Special Interests
Welfare of the people
Favourite Pastimeand Recreation
Reading, studying rural folk, religious rituals, educating people and sports and games
Sports and Clubs
Kabaddi and volleyball; selected for national games in Kabaddi and was a renowned
inter-collegiate volleyball player
Countries Visited
Widely travelled
Other Information
President, Telugu Artists Association for 18 years; educating rural masses and making them aware
of fiscal, academic and political policies; and actively engaged in Sangh Pariwar activities
Filmography
S No Film Name Director Name Release Year
1 Chilaka Gorinka Kotayya Pratyagatma 1966
2 Sri Krishnavataram Kamalakara Kameshwara Rao 1967
3 Nenante Nene V. Ramachandra Rao 1968
4 Bhale Abbayilu Peketi Sivaram 1969
5 Bhale Mastaru SD Lal 1969
6 Bhuddi Manthudu Bapu 1969
7 Manushulu Marali V. Madhusudhan Rao 1969
8 Malli Pelli CS Rao 1970
9 Jai Jawan D. Yoganand 1970
10 Amma Kosam BV Prasad 1970
11 Thali Bottu T. Madhavarao 1970
12 Pelli Sambandham K. Varaprasada Rao 1970
13 Pelli Koothuru 1970
14 Allude Menalludu P. Pullaiah 1970
15 Drohi K. Bapaiah 1970
16 Pavitra Bandam V. Madhusudhan Rao 1971
17 Anuradha P. Chandrasekhar Reddy 1971
18 Bhagyavantudu CS Rao 1971
19 Bangaru Talli Tapi Chanakya 1971
20 Sabhash Vadina M. Mallikumar 1972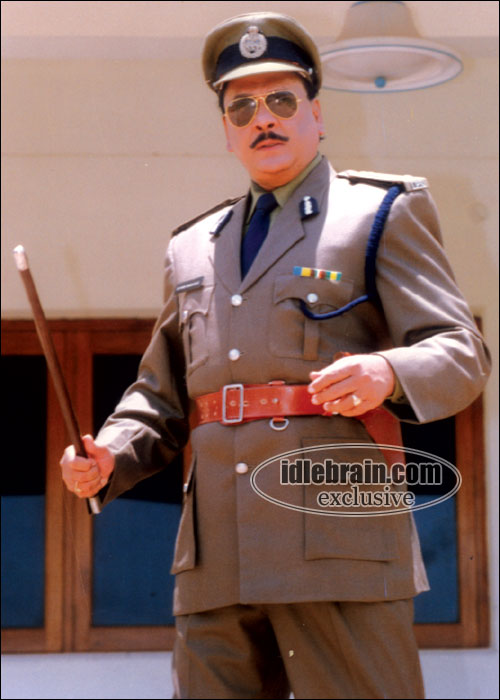 21 Mohammed Bin Tuglak BV Prasad 1972
22 Raithu Kutumbam Tatineni Rama Rao 1972
23 Rajamahal B. Harinarayana 1972
24 Antha Mana Manchike Bhanumati Ramakrishna 1972
25 Manchi Rojulu Vacchayi V. Madhusudhan Rao 1972
26 Hanthakulu Devanthakulu KSR Das 1972
27 Manavudu Danavudu P. Chandrasekhar Reddy 1972
28 Bhale Mosagadu P. Sambasiva Rao 1972
29 Neethi Nijayithi Singeetham Srinivasa Rao 1972
30 Vintha Dampathulu K. Hemambaradara Rao 1972
31 Inspector Bharya PV Sathyanarayana 1972
32 Sabhash Baby 1972
33 Matrumurthi M. Apparao 1972
34 Badi Panthulu P. Chandrasekhar Reddy 1972
35 Illu Illalu P. Chandrasekhar Reddy 1972
36 Ooriki Upakari P. Sundaram 1972
37 Balamitrula Katha K. Varaprasad Rao 1973
38 Stree Kotayya Pratyagatma 1973
39 Jeevana Tarangalu Tatineni Rama Rao 1973
40 Jeevitham KS Prakash Rao 1973
41 Vaade Veedu D. Yoganand 1973
42 Talli Kodukulu P. Chandrasekhara Reddy 1973
43 Sreevaru Maavaru BS Narayana 1973
44 Sneha Bandham P. Chandrasekhara Reddy 1973
45 Gandhi Puttina Desam P. Lakshmi Deepak 1973
46 Mamatha P. Chandrasekhara Reddy 1973
47 Mayadari Malligadu Adurthi Subbarao 1973
48 Vishali A. Sanjeevi 1973
49 Inti Dongalu K. Hemambaradara Rao 1973
50 Memu Manushalame K. Bapaiah 1973
51 Pulamala Vasantha Reddy 1973
52 Abhimanavanthulu KS Ramireddy 1973
53 Palletoori Chinnodu B. Vittalacharya 1974
54 Jeevitharangam PD Prasad 1974
55 Gundelu Theesina Monagadu Chakravarthy 1974
56 Manushullo Devudu BV Prasad 1974
57 Chandana 1974
58 Stree Gouravam SS Devidas 1974
59 Thulasi Baburao 1974
60 Bantrothu Bharya Dasari Narayana Rao 1974
61 Anaganaga Oka Tandri CS Rao 1974
62 Krishnaveni V. Madhusudhan Rao 1974
63 Nithya Sumangali MS Arya 1974
64 Adapillala Tandri K. Vasu 1974
65 Inti Kodalu 1974
66 Harathi P. Lakshmi Deepak 1974
67 Palle Paduchu K. Satyam 1974
68 Jeevithasayam K. Kameshwara Rao 1974
69 Chinnanati Kalalu T. Leninbabu 1975
70 Parivarthana K. Hemambaradara Rao 1975
71 Moguda? Pellama? BA Subbarao 1975
72 Puttinti Gouravam P. Chandrasekhara Reddy 1975
73 Bharathi Veturi 1975
74 Naaku Swathanthram Vacchindi P. Lakshmi Deepak 1975
75 Iddaru Iddare V. Madhusudhan Rao 1976
76 Yavvanam Kaatesindhi Dasari Narayana Rao 1976
77 Bhakta Kannappa Bapu 1976
78 Adavallu Apanindhalu BS Narayana 1976
79 Amma Nanna T. Leninbabu 1976
80 Suprabhatam KS Prakash Rao 1976
81 Manchiki Maroperu CS Rao 1976
82 Kurukshetram K. Kameshwara Rao 1977
83 Oke Raktham P. Chandrasekhara Reddy 1977
84 Geetha Sangeetha MS Kota Reddy 1977
85 Mahanubhavudu K. Hemambaradara Rao 1977
86 Bhale Alludu P. Chandrasekhara Reddy 1977
87 Amaradeepam K. Raghavendra Rao 1977
88 Jeevana Teeralu GC Sekhar 1977
89 Manushulu Chesina Dongalu M. Mallikarjuna Rao 1977
90 Sati Savitri BA Subbarao 1978
91 Manchi Manasu Kotayya Pratyagatma 1978
92 Katakatala Rudraiah Dasari Narayana Rao 1978
93 Manavuri Pandavulu Bapu 1978
94 Ramudu Rangadu P. Chandrasekhara Reddy 1978
95 Ramabanam Y. Eeswar Reddy 1979
96 Kamalamma Kamatam Kotayya Pratyagatma 1979
97 Cheyetti Jaikottu Kommineni 1979
98 Andadu Agadu SD Lal 1979
99 Rangoon Rowdy Dasari Narayana Rao 1979
100 Vinayaka Vijayam K. Kameshwara Rao 1979
101 Sivamettina Satyam V. Madhusudhan Rao 1980
102 Kalyana Chakravarthy MS Reddy 1980
103 Alluddu Pattina Bharatam Dasari Narayana Rao 1980
104 Seetaramulu Dasari Narayana Rao 1980
105 Bebbuli V. Madhusudhan Rao 1980
106 Prema Tarangalu SP Chittibabu 1980
107 Adavallu Meeku Joharlu K. Balachander 1981
108 Agnipulu K. Bapaiah 1981
109 Pulibidda V. Madhusudhan Rao 1981
110 Taxi Driver SP Chittibabu 1981
111 Ragile Jwala K. Raghavendra Rao 1981
112 Guvvala Janta K. Vasu 1981
113 Rama Lakshmanudu R. Tyagaraj 1981
114 Madhura Swapnam K. Raghavendra Rao 1982
115 Talli Kodukula Anubhandam KSR Das 1982
116 Nipputho Chalagatam Kommineni 1982
117 Golconda Abbulu Dasari Narayana Rao 1982
118 Jaggu P. Chandrasekhara Reddy 1982
119 Pralaya Rudrudu A. Kodanda Rami Reddy 1982
120 Trisulam K. Raghavendra Rao 1982
121 Nijam Chepthe Neram M. Balaiah 1983
122 Adavi Simhalu K. Raghavendra Rao 1983
123 Puli-Bobbili KSR Das 1983
124 Kotikokkadu B. Bhaskar Rao 1983
125 Dharmathmudu B. Bhaskar Rao 1983
126 Yuddham Dasari Narayana Rao 1984
127 Sardar Nandam Harischandra Rao 1984
128 Babulugadi Debba K. Vasu 1984
129 Kondaveeti Nagulu Rajasekhar 1984
130 SP Bhayankar VB Rajendra Prasad 1984
131 Bobbili Brahmanna K. Raghavendra Rao 1984
132 Raraju G. Rammohan Rao 1984
133 Bharatamlo Sankharavam B. Bhaskar Rao 1984
134 Rowdy A. Mohan Gandhi 1984
135 Bandhi Kodi Ramakrishna 1985
136 Tirugubaatu Dasari Narayana Rao 1985
137 Aggiraju B. Bhaskar Rao 1985
138 Bullet Bapu 1985
139 Ukku Manishi Raj Bharat 1986
140 Ravana Brahma K. Raghavendra Rao 1986
141 Neti Yuga Dharmam G. Rammohan Rao 1986
142 Ugra Narasimham Dasari Narayana Rao 1986
143 Tandra Papa Rayudu Dasari Narayana Rao 1986
144 Brahmanaidu Dasari Narayana Rao 1986
145 Sardar Dharmanna V. Bhaskar Rao 1987
146 Marana Sasanam 1987
147 Viswanatha Nayakudu Dasari Narayana Rao 1987
148 Maaranahomam 1987
149 Maa Inti Maharaju 1988
150 Antima Teerpu Joshi 1988
151 Prithviraj 1988
152 Prachanda Bharatam 1988
153 Dharmateja 1988
154 Prana Snehitulu V. Madhusudhan Rao 1988
155 Simha Swapnam V. Madhusudhan Rao 1989
156 Sree Ramachandrudu 1989
157 Pape Maa Pranam V. Madusudhan Rao 1989
158 Bhagavan 1989
159 Sumangali 1989
160 Two Town Rowdy Dasari Narayana Rao 1989
161 Guru Sishyulu SP Muthuraman 1990
162 Yama Dharma Raju Relangi Narasimha Rao 1990
163 Neti Siddhartha Kranthi Kumar 1990
164 Indrabhavanam G. Krishna 1991
165 Vidatha 1991
166 Bava Bavamaridhi Sarath 1993
167 Anna Vadina P. Chandrasekhara Reddy 1993
168 Jailorgari Abbayi Sarath 1994
169 Andaru Andare Mouli 1994
170 Gang Master B. Gopal 1994
171 Palnati Pourusham Mutyala Subbaiah 1994
172 Riksha Rudraiah KS Nageswara Rao 1994
173 Simha Gharjana 1995
174 Nayudugari Kutumbam Boina Kutumba Rao 1996
175 Tata Manavadu K. Sadasiva Rao 1996
176 Kutumba Gouravam K. Ajaykumar 1997
177 Maa Nannaki Pelli EVV Satyanarayana 1997
178 Sultan Sarath 1999
179 Vamsoddharakudu Sarath 2000
180 Neeku Nenu Naaku Nuvvu Rajasekhar 2003
181 Ram N. Shankar 2006
Combination of Krishnam Raju & NTR
S No Film Name Director Name Release Year
1 Bhale Mastaru SD Lal 1969
2 Badi Panthulu P. Chandrasekhar Reddy 1972
3 Vaade Veedu D. Yoganand 1973
4 Palletoori Chinnodu B. Vittalacharya 1974
5 Manushullo Devudu BV Prasad 1974
6 Manchiki Maroperu CS Rao 1976
7 Sati Savitri BA Subbarao 1978
Combination of Krishnam Raju & ANR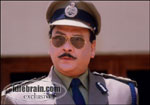 S No Film Name Director Name Release Year
1 Bhuddi Manthudu Bapu 1969
2 Jai Jawan D. Yoganand 1970
3 Pavitra Bandam V. Madhusudhan Rao 1971
4 Manchi Rojulu Vacchayi V. Madhusudhan Rao 1972
5 Matrumurthi M. Apparao 1972
6 SP Bhayankar VB Rajendra Prasad 1984
Combination of Krishnam Raju & Sobhanbabu
S No Film Name Director Name Release Year
1 Amma Kosam BV Prasad 1970
2 Bangaru Talli Tapi Chanakya 1971
3 Manavudu Danavudu P. Chandrasekhar Reddy 1972
4 Jeevitham KS Prakash Rao 1973
5 Jeevana Tarangalu Tatineni Rama Rao 1973
6 Iddaru Iddare V. Madhusudhan Rao 1976
7 Kurukshetram K. Kameshwara Rao 1977
8 Ramabanam Y. Eeswar Reddy 1979
Combination of Krishnam Raju & Krishna
S No Film Name Director Name Release Year
1 Nenante Nene V. Ramachandra Rao 1968
2 Bhale Abbayilu Peketi Sivaram 1969
3 Allude Menalludu P. Pullaiah 1970
4 Thali Bottu T. Madhavarao 1970
5 Antha Mana Manchike Bhanumati Ramakrishna 1972
6 Bhale Mosagadu P. Sambasiva Rao 1972
7 Inspector Bharya PV Sathyanarayana 1972
8 Hanthakulu Devanthakulu KSR Das 1972
9 Illu Illalu P. Chandrasekhar Reddy 1972
10 Rajamahal B. Harinarayana 1972
11 Sneha Bandham P. Chandrasekhara Reddy 1973
12 Mayadari Malligadu Adurthi Subbarao 1973
13 Kurukshetram K. Kameshwara Rao 1977
14 Manushulu Chesina Dongalu M. Mallikarjuna Rao 1977
15 Adavi Simhalu K. Raghavendra Rao 1983
16 Yuddham Dasari Narayana Rao 1984
17 Viswanatha Nayakudu Dasari Narayana Rao 1987
18 Indrabhavanam G. Krishna 1991
19 Sultan Sarath 1999
As producer

(Gopikrishna Movies)
S No Film Name Director Name Release Year
1 Krishnaveni V. Madhusudhan Rao 1974
2 Bhakta Kannappa Bapu 1976
3 Amaradeepam K. Raghavendra Rao 1977
4 Madhura Swapnam K. Raghavendra Rao 1982
5 Bobbili Brahmanna K. Raghavendra Rao 1984
6 Tandra Papa Rayudu Dasari Narayana Rao 1986
7 Maa Inti Maharaju 1988
8 Prana Snehitulu V. Madhusudhan Rao 1988
9 Yama Dharma Raju Relangi Narasimha Rao 1990
In a double role
S No Film Name Director Name Release Year
1 Katakatala Rudraiah Dasari Narayana Rao 1978
2 Sivamettina Satyam V. Madhusudhan Rao 1980
3 Kalyana Chakravarthy MS Reddy 1980
4 Agnipulu K. Bapaiah 1981
5 Pulibidda V. Madhusudhan Rao 1981
6 Ragile Jwala K. Raghavendra Rao 1981
7 Nipputho Chalagatam Kommineni 1982
8 Yuddham Dasari Narayana Rao 1984
9 Sardar Nandam Harischandra Rao 1984
10 Bobbili Brahmanna K. Raghavendra Rao 1984
11 Ukku Manishi Raj Bharat 1986
12 Ravana Brahma K. Raghavendra Rao 1986
Telugu remakes of Hindi films
S No Film Name Director Name Release Year
1 Waqt Bhale Abbayilu 1969
2 Mother India Bangaru Talli 1971
3 Gaon Ki Gori Palle Paduchu 1974
4 Do Yaar Iddaru Iddare 1976
5 Haath Ki Safayi Manushulu Chesina Dongalu 1977
6 Keemat Andadu Agadu 1979
7 Adalat Sivamettina Satyam 1980
8 Mukaddar Ka Sikandar Prema Tarangalu 1980
9 Tere Mere Sapne Madhura Swapnam 1982
10 Karma Yogi Nipputho Chalagatam 1982
11 Satyameva Jayathe Marana Sasanam 1987
12 Jaal Kirai Dada 1989
13 Khatron Ka Khiladi Simha Swapnam 1989
14 Tezaab Two Town Rowdy 1989
15 Sir Gang Master 1994
+