Banner: Saradhi Pictures
Direction: Tapi Chanakya
Story: Tapi Chanakya, KL Narayana & CVR Prasad
Dialogues: Tapi Dharma Rao
Lyrics: Tapi Dharma Rao & Kosaraju

Music: Master Venu

Cast:
A Nageswara Rao,
Showkar Janaki,
Hemalatha,
Relangi Venkatramaiah,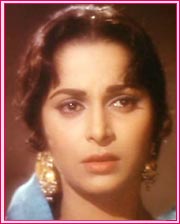 CSR Anjaneyulu & Waheeda Rehman

Story:
This major musical hit and reformist rural melodrama often cited as the film, which redefined the formula for commercial success in 50's Telugu cinema.

The peasant hero Venu (Nageswara Rao) takes on the oppressive might Zamindar (CSR Anjaneyulu) and succeeds, helped by a sympathetic police force, in redistributing the land to the peasants.

The hero also married a low-caste woman (Janaki) rejected by his parents. The film was apparently inspired by Congress (1955) where Nehru called for a 'socialist pattern of society in which the principle means for production are under social ownership', a view replicated in the film's dialogues and lyrics.

The song Eruvaka Saagaloi, pictured on on Waheeda Rehman who thus became a star, was a mega hit in Telugu and is regarded as signaling the advent of a new generation. According to VAK Ranga Rao, the song's tune is used by CR Subbaraman in Sri Lakshmamma Katha (1950), where the folk-singers Seeta and Anasuya claimed authorship, although it was probably adapted from a 20's HMV recording by their teacher Valluri Jagannadha Rao. When the MG Ramachandran's hit Madhurai Veeran (1956) used a similar tune, the producer was sued for plagiarism. The tune was later used for other south Indian films and by SD Burman in Bambai Ka Babu (1960) for Asha Bhonsle's rendition of Dekh Main Bhola Hain, Dil Ka Salona.