Amrish Puri
Birth name Amrish Lal Puri
Born June 22, 1932(1932-06-22)
Punjab, India
Died January 12, 2005 (aged 72)
Mumbai, Maharashtra, India
Amrish Lal Puri was an Indian actor who appeared primarily in Hindi movies.
He is best remembered to Bollywood audiences for his role as Mogambo in Mr India (1987). He is also especially remembered for his role as Mola Ram in the Hollywood film Indiana Jones and the Temple of Doom (1984).
Amrish Puri was born in Distt. Nawanshehar near by Jalandhar in the Punjab region of India. His parents were (father) Lala Nihal Chand and (mother) Ved Kaur. He had four siblings, elder brothers Chaman Puri and Madan Puri (both of whom also became actors), elder sister Chandrakanta, and a younger brother, Harish Puri. He graduated from B.M. College in Shimla, Himachal Pradesh. Amrish came to Bombay with not even hundred rupees in his pocket and made it so big with his sheer hard work, perseverance, and disciplined lifestyle.

He married Urmila Divekar on the 5th of January, 1957, at the Shri Krishna Temple in Wadala. The couple had two children, son Rajeev Puri, and daughter Namrata Puri. His son Rajeev is a businessman. He has four grandchildren: Sachi, Harsh Vardhan, Shantanu Bagwe and Krish Bagwe. Sachi is a 19 year old aspiring doctor whereas Harsh is a student in Jamnabai Narsee School(Juhu, Mumbai)and a very enthusiastic young man, to whom Amrish was very close. His daughter-in-law, Meena, is a professional physiotherapist. She practices at her Juhu clinic.
Amrish had a passion for collecting hats, and bought a hat or two on every abroad trip of his. He had a collection of over 200 hats from across the world. Amrish was a very religious person by heart and a Shiv devotee.
When Amrish reached Bombay his brother Madan Puri was already an established actor, known for playing villain roles. Amrish failed his first screen test and had to find a job with the Ministry of Labour.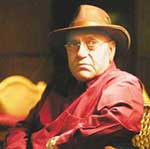 Meanwhile he started performing at the Prithvi Theatre, in plays written by Satyadev Dubey, eventually became well-known as stage actor and won the Sangeet Natak Akademi Award in 1979.] This theatre recognition soon led to work in television ads and eventually to films at the age of 40.
Amrish Puri went on to work in Hindi, Hollywood, Punjabi, Telugu and Tamil films. Though he was successful in all of these industries, he is best known for his work in Bollywood cinema. He has appeared in over four hundred movies. His dominating screen presence & booming voice made him stand out amongst a sea of actors.
He played character roles and was well-known as a villain. He had a striking bass voice, the ability to extend his eyes widely out of their eyelids during climatic scenes and an outsize acting style that made him a convincing villain in even the most melodramatic movies.

He died in Mumbai in 2005, after a brain hemorrhage at the age of 72.
His autobiography titled, 'The Act of Life' was published in 2006, and is seen as the document of the cinema of his times.
In 1970 he appeared in his first film, Prem Pujari although the first film he had signed for was Reshma Aur Shera which released in 1971.
This was followed by many villain or supporting roles in numerous art films such as Shyam Benegal's Nishant, Manthan, and Bhumika and Suraj Ka Satvan Ghoda. He also appeared in Govind Nihalani's film, Party in 1984.
He attracted a great deal of attention for his work 1987 hit, film Mr. India, directed by Shekhar Kapur. He played the evil Mogambo, who encouraged his underlings with the phrase, Mogambo khush hua (Mogambo is pleased). The phrase became very popular and remains one of his most famous dialogues.

He became a staple of Bollywood films in the 1980s playing mostly villainious roles. He also went on to play many positive supporting roles, including his famous role as Baldev Singh in the Indian blockbuster Dilwale Dulhaniya Le Jayenge (1995).
While he is best known for his work as a villain, he has also played the "good guy" at times. He was a kind-hearted American businessman in Pardes (1997) and a genial grandfather in the film Chori Chori Chupke Chupke (2001).
His last film was Kisna: The Warrior Poet. The film was released a few days after his death.
He is known to international audiences for his roles as Khan in Richard Attenborough's Gandhi (1982) and as the main antagonist Mola Ram in the Steven Spielberg's Indiana Jones and the Temple of Doom (1984).
Amrish Puri starred as the sadistic jailor in Kalapani in which he got a chance to act with Mohanlal
Amrish Puri starred as the landlord villain, Joginder Singh, in Chan Pardesi (1980).
He also appeared in Telugu movies such as Jagadeka Veerudu Athiloka Sundari, Major Chandrakanth, Aditya-369, Kondaveeti Donga, Aswamedham, Aakhari Poratam etc.
Amris Puri appeared in the Tamil film Dalapathi (1991), directed by Mani Ratnam, opposite South Indian superstars Rajnikanth and Mammootty. After Dalapathi, Amrish Puri made his second and last appearance in the Rajinkanth's film "Baba" (2002) in which Amrish Puri played the role of an evil tantrik who helps politicians and other evil elements to succeed in their hideous schemes.
Amrish Puri had also acted in few kannada Movies. Simhada Mari Saniya, Subbi Subbaka Suvalali, Love and few other movies.


Awards

* 1968, Maharashtra State Drama Competition
* 1979, Sangeet Natak Akademi Award for Theatre
* 1986, Filmfare Best Supporting Actor Award, Meri Jung
* 1991, Maharashtra State Gaurav Puraskar
* 1994, Sydney Film Festival, Best Actor Award – "Suraj Ka Satvan Ghoda"
* 1994, Singapore Film Festival, Best Actor Award – "Suraj Ka Satvan Ghoda"
* 1997, Filmfare Best Supporting Actor Award, Ghatak
* 1997, Star Screen Award Best Supporting Actor, Ghatak
* 1998, Filmfare Best Supporting Actor Award, Virasat
* 1998, Star Screen Award Best Supporting Actor, Virasat

Filmography

Actor:

1. Kachchi Sadak (2006) .... Hasan Kairanvi
2. Mumbai Express (2005)
3. Kisna: The Warrior Poet (2005) .... Bhairo Singh
4. Ab Tumhare Hawale Watan Saathiyo (2004) .... Narrator
5. Hulchul (2004) .... Angar Chand
6. Aitraaz (2004) .... Ranjit Roy
7. Taarzan: The Wonder Car (2004) .... Kartar Singh/Baa Ji
8. Mujhse Shaadi Karogi (2004) .... Colonel Dugraj Singh
9. Garv: Pride and Honour (2004) .... Inspector Samar Singh
10. Lakshya (2004) .... Brig Gen. Gautam Puri
11. Dev (2004) .... Chief Minister Bhandarker
12. Police Force: An Inside Story (2004) .... Mr. Pandey
13. Woh Tera Naam Tha (2004) .... Ustad Samad Khan
14. Dil Pardesi Ho Gayaa (2003) .... Brig. Sarfaroz Khan
15. Out of Control (2003)
16. Jaal: The Trap (2003) .... Major Amrish Kaul
17. The Hero: Love Story of a Spy (2003) .... I.S.I Chief Ishak Khan
18. Khushi (2003) .... Vir Bhadra Singh
19. Surya (2003) .... Thakur
20. Rishtey (2002) .... Yashpal Chaudhary
21. Jaani Dushman: Ek Anokhi Kahani (2002) .... Sadhu (sage)
22. Baba (2002) .... Tantrik
23. Shararat (2002) .... Prajapati
24. Badhaai Ho Badhaai (2002) .... Mr. Chaddha
25. Nayak: The Real Hero (2001) .... Balraj Chauhan (Chief Minister)
26. Yaadein... (2001) .... Jagdish Kumar Malhotra
27. Gadar: Ek Prem Katha (2001) .... Mayor (Sakina's dad)
28. Mujhe Kucch Kehna Hai (2001) .... Balram Singh (Tau of Karan)
29. Chori Chori Chupke Chupke (2001) .... Kailashnath Malhotra
30. Censor (2001) .... Pandit Shiv Prasad (Censor Board Member)
31. Zubeidaa (2001) .... Suleiman Seth
32. On Wings of Fire (2001) .... Nihavand ruler
33. Mohabbatein (2000) .... Maj. Gen. Khanna (special appearance)
34. Dhaai Akshar Prem Ke (2000) .... Yogvendra 'Yogi' Grewal
35. Badal (2000) .... ACP Ranjeet Singh
36. Shaheed Uddham Singh: Alais Ram Mohammad Singh Azad (2000) .... The Sufi Saint
37. Thakshak (1999) .... Nahar Singh (Ishaan's father)
38. Gair (1999) .... C.K. Oberoi
39. Baadshah (1999) .... Suraj Singh Thaper
40. Taal (1999) .... Jagmohan Mehta
41. Jai Hind (1999) .... Ret. Col. Mohandas
42. Zulmi (1999) .... Balraj Dutt
43. Aarzoo (1999) .... Dayashankar
44. Lal Baadshah (1999) .... Thakur Dhayal Singh
45. Kaala Samrajya (1999) .... Kaalkeshwar Singh
46. Jhooth Bole Kauwa Kaate (1998) .... Mr. Abhyankar
47. Barood (1998) .... Mr. Singhal
48. Salaakhen (1998) .... Jaspal Rana
49. Chachi 420 (1998) .... Durgaprasad Bhardwaj
50. China Gate (1998) .... Col. Kewal Krishan Puri
51. Dhoondte Reh Jaaoge! (1998) .... Voice on the phone with Tiger
52. Doli Saja Ke Rakhna (1998) .... Jojo Pinto
53. Sham Ghansham (1998) .... Collector Bhim Singh
54. Tarazu (1997) .... Appa Rao
55. Mahaanta (1997) .... Seth. Kedar Nath
56. Koyla (1997) .... Raja Saab
57. Dhaal: The Battle of Law Against Law (1997) .... Pilot Baba
58. Himalay Putra (1997) .... Malhotra, Seema's father (special appearance)
59. Itihaas (1997) .... Balwant
60. Nirnayak (1997)
61. Pardes (1997) .... Kishorilal
62. Virasat (1997) .... Raja Thakur
63. Ghatak: Lethal (1996) .... Shambu Nath
64. Beqabu (1996) .... ACP Amritlal Bakshi
65. Jeet (1996) .... Gajraj Choudhary
66. Tu Chor Main Sipahi (1996) .... Thakur Gajendra Singh
67. Vijeta (1996) .... D.I.G. Jagdish Chaudhary
68. Diljale (1996) .... Daka
69. Jaan (1996) .... Police Commisioner Suryadev Singh
70. Kala Pani (1996) .... Mirza Khan
71. Sardari Begum (1996) .... Hemraj
72. Haqeeqat (1995) .... ACP. Shivcharan
73. Dilwale Dulhania Le Jayenge (1995) .... Chaudhry Baldev Singh
74. Gundaraj (1995) .... Police Inspector
75. Hulchul (1995) .... Shobraj
76. Prem (1995) .... Vanraja
77. Maidan-E-Jung (1995) .... Thakur Ranvir Singh 'Daata Guru'
78. Jai Vikraanta (1995) .... Thakur Jaswant Singh
79. Karan Arjun (1995) .... Thakur Durjan Singh
80. Kartavya (1995) .... Thakur Ugranarayan Singh
81. Oh Darling Yeh Hai India (1995) .... Don Qixote
82. Paappi Devataa (1995) .... Ratan Seth
83. Droh Kaal (1994) .... IGP Pathak
84. Pehla Pehla Pyaar (1994) .... Hukam Singh
85. Elaan (1994) .... Ramakant Chaudhry
86. Maha Shaktishaali (1994)
87. Pramaatma (1994)
88. Tejasvini (1994) .... Lala Khurana
89. Gardish (1993) .... Purshotam Kashinath Sathe
90. Damini - Lightning (1993) .... Indrajit Chaddha (Scheming Lawyer)
91. Divya Shakti (1993) .... Tau (Mafia Don)
92. Kundan (1993) .... Thakur Shamsher Singh
93. Sangram (1993) .... Thakur Surajbhan Singh Kanwar
94. Suraj Ka Satvan Ghoda (1993) .... Mahesar Dalal
95. Muskurahat (1992) .... Former Justice Gopichand Verma
96. Deewana (1992) .... Dhirendra Pratap
97. Zindagi Ek Juaa (1992) .... Bhalla
98. Vishwatma (1992) .... Azghar Jurhad
99. Ashwamedham (1992)
100. I Love You (1992)
101. Tehelka (1992)
102. Time Machine (1992)
103. Vansh (1992)
104. Thalapathi (1991) .... Kalivardhan
105. Phool Aur Kaante (1991) .... Nageshwar "Don"
106. Dharam Sankat (1991) .... Jagira
107. Aditya 369 (1991) .... Raja Varma
108. Saudagar (1991) .... Chuniya
109. Ajooba (1991) .... Vazir-E-Alla
110. Benaam Badsha (1991) .... Jaikal
111. Iraada (1991)
112. Jigarwala (1991) .... Dhurjan Singh
113. Aadmi Aur Apsara (1991)
114. Kohraam (1991)
115. Mast Kalandar (1991) .... Raja Sahab
116. Numbri Aadmi (1991) .... Rana
117. Shikari: The Hunter (1991) .... Nahar Singh
118. Trinetra (1991) .... Singhania
119. Doodh Ka Karz (1990) .... Raghuvir Singh
120. Aaj Ka Arjun (1990) .... Thakur Bhupendra Singh
121. Ghayal (1990) .... Balwant Rai
122. Jagadeka Veerudu Attilokasundari (1990) .... Mahadrashta
123. Kondaveeti Donga (1990)
124. Hatimtai (1990)
125. Jeene Do (1990) .... Thakur Sher Bahadur Singh
126. Kaaranama (1990)
127. Kishen Kanhaiya (1990) .... Lala Gendamal
128. Muqaddar Ka Badshaah (1990) .... Vikral Singh
129. Tejaa (1990) .... Jarahwar
130. Aag Se Khelenge (1989) .... Zakha
131. Jaadugar (1989) .... Mahaprabhu Jagatsagar Chintamani
132. Hisaab Khoon Ka (1989) .... Ranvir Pushp
133. Batwara (1989) .... Hanumant Singh
134. Na-Insaafi (1989) .... Billa
135. Tridev (1989) .... Bhujang/Bhairav Singh
136. Daata (1989) .... Gopaldas/G.D. Sarang
137. Ilaaka (1989) .... Nagar
138. Farz Ki Jung (1989) .... Jai Kishan (JK)
139. Mil Gayee Manzil Mujhe (1989)
140. Do Qaidi (1989) .... K.K.
141. Jurrat (1989) .... Kama
142. Mujrim (1989) .... Khan
143. Nafrat Ki Aandhi (1989) .... Chandidas Khurana
144. Nigahen: Nagina Part II (1989) (voice) (uncredited) .... Bhairon Nath
145. Ram Lakhan (1989) .... Bhishambar Nath
146. Suryaa: An Awakening (1989) .... Gangadhar Choudhary
147. Tujhe Nahin Chhodunga (1989)
148. Dayavan (1988) .... Inspector Ratan Singh
149. Rukhsat (1988) .... Jagdish Chopra
150. Commando (1988) .... Marcelloni
151. Mohabbat Ke Dushman (1988) .... Shahbaaz Khan
152. Waaris (1988) .... Dulla K. Singh
153. Shahenshah (1988) (uncredited) .... J.K
154. Hum Farishte Nahin (1988) .... Pashrutam Das/Din Dayal
155. Aakhari Poratam (1988) .... Anantananda Swamy
156. Gangaa Jamunaa Saraswathi (1988) .... Thakur Hansraj Singh
157. Hamara Khandaan (1988) .... Chandraprakash Singh (Vishal's dad)
158. Janam Janam (1988) .... Yuvraj Thakur Balbir Singh
159. Khoon Bahaa Ganga Mein (1988)
160. Mar Mitenge (1988) .... Ajit Singh
161. Saazish (1988) .... Diwan
162. Yateem (1988) .... Dacoit Pukhiya 'Dadhu'
163. Param Dharam (1987) .... Shamshera
164. Sadak Chhap (1987) .... Dharamdas, MP
165. Hawalaat (1987) .... Seth Dharam Das
166. Mr India (1987) .... Mogambo
167. Dance Dance (1987) .... Raja Bahadur A.M. Singh
168. Madadgar (1987)
169. Loha (1987)
170. Dadagiri (1987) .... Bhanupratap
171. Dil Tujhko Diya (1987) .... Mohla
172. Inaam Dus Hazaar (1987)
173. Jawab Hum Denge (1987) .... Seth Dhanraj
174. Sher Shivaji (1987)
175. Ek Aur Sikander (1986) .... Sher Khan
176. Asli Naqli (1986) .... Durjan Singh
177. Samundar (1986) .... Raiszada Narsingh
178. Janbaaz (1986) .... Rana Vikram Singh
179. Sultanat (1986) .... Razoulli Al-Jabber Al-Nasser
180. Aap Ke Saath (1986) .... Persha
181. Kaanch Ki Deewar (1986) .... Bhoop Singh
182. Dosti Dushmani (1986)
183. Mera Dharam (1986) .... Thakur Digvijay Singh
184. Nagina (1986) .... Bhairon Nath
185. Naseeb Apna Apna (1986) .... Bhim Singh
186. Pyar Ho Gaya (1986) .... Sapna's Father
187. Ricky (1986)
188. "Tamas" (1986) (mini) TV mini-series
189. Meri Jung (1985) .... G.D. Thakral
190. Zabardast (1985) .... Balram Singh
191. Mohabbat (1985) .... Choudhury
192. Nishan (1985)
193. Aaj Ke Sholey (1985) .... Balbir Gupta
194. Aghaat (1985) .... Chakradev
195. Karmyudh (1985) .... Sohanlal Puri
196. Paisa Yeh Paisa (1985) .... Jugal
197. Patthar Dil (1985) .... Rana Surajbhan Singh
198. Phaansi Ke Baad (1985) .... Damodar Seth
199. Teri Meherbaniyan (1985) .... Thakur Vijay Singh
200. Kasam Paida Karne Wale Ki (1984) .... Udaybhan Singh
201. Jhutha Sach (1984) .... Golga
202. Gangvaa (1984) .... Special Appearance
203. Insaaf Kaun Karega (1984) .... Bhanupratap
204. Indiana Jones and the Temple of Doom (1984) .... Mola Ram
205. Mashaal (1984) .... S.K. Vardhan
206. Awaaz (1984) .... Mulchand Malhotra
207. Duniya (1984) .... Balwant Singh Kalra
208. Jagir (1984) .... Lakhan
209. Party (1984) .... Doctor
210. Yeh Desh (1984) .... Dhuliya
211. Zakhmi Sher (1984) .... Swami Kashinath Singh
212. Coolie (1983/I) .... John D'Costa
213. Andhaa Kanoon (1983) .... Mr. Ram Gupta
214. Ardh Satya (1983) .... Anant's Father
215. Haadsaa (1983) .... R.K. Chakravarty
216. Hero (1983/II) .... Pasha
217. Mandi (1983) .... Darvish
218. Vidhaata (1982) .... Jagawar Chaudhary
219. Gandhi (1982) .... Khan
220. Shakti (1982) .... J.K. Verma
221. Apna Bana Lo (1982) .... Mr. Joshi
222. Aadat Se Majboor (1982) .... Agnihotri (aka Joginder Singh)
223. Ashanti (1982) .... Raja Bhishm Bahadur Singh
224. Johny I Love You (1982) .... Zalim Singh
225. Main Intequam Loonga (1982) .... Goverdhan Das 'G.D.'
226. Tahalka (1982) .... General Dong
227. Vijeta (1982) .... Chief Instructor Verghese
228. Kalyug (1981) .... Kishan Chand
229. Naseeb (1981) .... Don
230. Krodhi (1981) .... Madhavan
231. Nai Imarat (1981)
232. Hum Paanch (1980) .... Vir Pratap Singh
233. Dostana (1980) .... Balwant Singh
234. Gehrayee (1980) .... Tantric Magician
235. Qurbani (1980) .... Rakka
236. Aakrosh (1980) .... Public Prosecutor Dushane
237. Chann Pardesi (1980) .... Joginder Singh
238. Maan Abhiman (1980) .... Mathuraprasad Choudhary
239. Patthar Se Takkar (1980)
240. Hamare Tumhare (1979) .... General Manager
241. Jaani Dushman (1979) .... Man who kidnapped Geeta (Bride)
242. Lakhan (1979)
243. Naiyya (1979) .... Pannalal
244. Sawan Ko Aane Do (1979) .... Chandrika's dad
245. Kondura (1978) .... Bhairavmoorthy/Kondura
246. Bhumika: The Role (1977) .... Vinayak Kale
247. Immaan Dharam (1977) .... Dharam Dayal
248. Alibaba Marjinaa (1977) .... Jabbar
249. Paapi (1977) (voice) (uncredited) .... Michael
250. Manthan (1976) .... Mishraji
251. Nishaant (1975) .... Eldest Zamindar
252. Salaakhen (1975) .... Master
253. Hindustan Ki Kasam (1973)
254. Kaadu (1973/I) .... Chandre Gowda
255. Hulchul (1971) .... Public Prosecutor
256. Reshma Aur Shera (1971) .... Rehmat Khan
257. Shantata! Court Chalu Aahe (1971)
258. Prem Pujari (1970) .... Jerry

Music Department:

1. Dhaal: The Battle of Law Against Law (1997) (playback singer)

Thanks:

1. Lakshya (2004) (special thanks)

Self:

1. Raj Kapoor (1987) .... Himself (during funeral)
2. Chhatrabhang (1976) .... Narrator