Punchline: a journey through college days

Genre: Youth

Banner: Amigoes Creations

Cast:
Sandesh,
Nikhil,
Vamsi Krishna,
Raahul,
Tamanna,
Gayatri Rao,
Sonia,
Monali Chowdary
Kamalinee Mukherjee (in a guest role)

Camera: Vijay C Kumar

Music: Mickey J Meyer

Art: Kishore Chowksi

Editing: Marthand K Venkatesh

Story - screenplay - dialogues - direction: Sekhar Kammula

Producer: Sekhar Kammula

Release date: 29 September 2007

Story

Happydays Chandu (Sandesh), Rajesh (Nikhil), Shankar (Vamsi Krishna), Tyson (Raahul), Madhu (Tamanna), Appu (Gayatri Rao) and Sangeeta (Monali Chowdary) are a bunch of freshers in a college. They all together make a fine gang. Chandu - Madhu, Rajesh - Appu Shankar - Sangeeta soon build up their relation and become pairs. Tyson - a nerd with a heart of gold - ends up falling in love with a senior Sravanthi (Sonia). The rest of the story is how they spend their four years of their education in the campus and express love for their respective dear ones.


Artists Performance

Main male leads:
This film boasts of perfect casting. You see characters, not the actors. All the new comers performed in an extremely natural way. And by the time movie ends, we end up understanding the characteristics and traits of each and every one. As per the footage and likeability of the character is concerned Varun Sandesh takes the top ranking. He is extremely lovable and his striking resemblance to hero Siddhardh is an added advantage. He understood the character very well. The next is Raahul. Lots of credit should be given to Sekhar Kammula for penning such a beautiful character and Raahul suited it to the tee. Nikhil is pretty good as the tapori. He got considerable importance towards the latter half of the second half. Vamsi Krishna is a pretty good actor, but did not get enough scope to perform. The two guys who had donned the role of seniors are good.

Main female leads:
Tamanna is the main heroine of the film. She is very good and she oozed natural expressions in all her scenes. Gayatri Rao is also very natural and likable. However, it is Sonia who steals the show with her extremely natural and at times subtle expressions. Monali Chowdary is good as the bad girl. Kamalinee Mukherjee did the role of an extremely glamorous lecturer and she dubbed her own voice. She is cool.

Technical Departments:

Story - screenplay - direction:
There is not much of a story in this film. It is about the love of four couples spread over four years. What makes the big difference to this simple and plain story is director's ability to create interest throughout the film with neat screenplay. He brought out tremendous emotion in the scenes of separation and reunion between the pairs.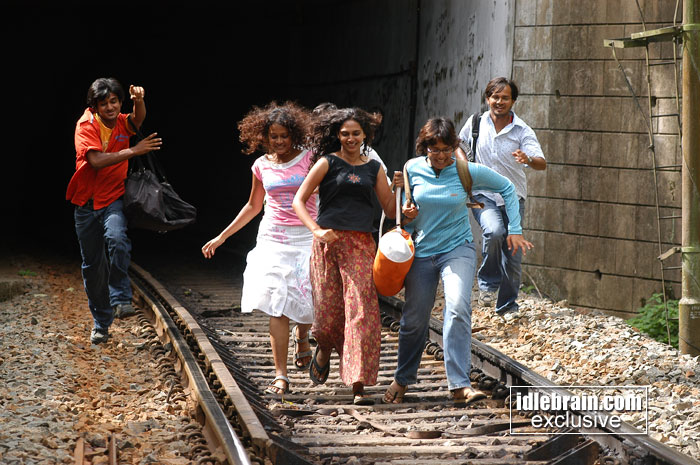 Some Best Scenes :

1. The separation scene of Tyson and Sravanthi is very fascinating.
2. Rajesh's reaction after he beats up his friend Shankar.
3. The way he ended the love thread between Tyson and Sravanthi. If Sravanthi accepted Tyson's love, then it would appear that the director is giving messages that it is ok to love your senior girls in the college.

Some Best Dialogues :

1. Love and fear can never coexist.
2. A boy's character is judged by the kind of girls he roams with.
3. The college life may fail you to achieve great academic rewards, but it will definitely give you the ability to achieve any thing.
4. College Days are Happy Days. The days that follow college days are purposeful days.

Other departments:
Music of the film is excellent and the two songs in the first half (music + visuals) take you to the different level. Micky J Meyer is just superb. Other department that dominates the movie is great cinematography. Visuals are a feast to the eyes. Vijay C Kumar who followed single color pattern for Anand and Godavari came up with different color sceheme for this film so that the visuals match the vibrancy of college atmosphere. Editing by Marthand K Venkatesh deserves special mention. He made sure the scenes flow in the film is smooth.

CLICK HERE to see the lyrics of Happy Days songs.