K.R. Vijaya's smile illuminated her acting career


"I received the title `Punnagai Arasi' in 1973. To have a good smile one needs to have good teeth, and I had that asset, thanks to Dr. Janakiraman"

K.R. Vijaya has acted for more than four decades in South Indian cinema. She has worked with almost all the stalwarts of cinema, and played a variety of roles. `Punnagai Arasi' (queen of smiles) K.R. Vijaya talks about her life, before and after her entry into films.

My mother was from Kerala and my father from Andhra Pradesh. I was born in Kerala. But, when I was young I spent most of my days in Palani. As my father was acting in M.K. Radha's drama troupe, he wanted me to act in films and make it big in the field.

I used to act and dance on stage. At that time, television was an object of fancy (though telecasts came much later). I would dance on stage, and the performance would be shown on a TV kept on one side of the stage.
Actor Gemini Ganesan was present when one such television dance show was staged in Chennai. He liked my performance and said I had the chance to become a film star. And it turned out to be the hero in my debut film Karpagam, directed by K.S. Gopalakrishnan.


If I remember right, it was in 1973 that I received the title of `Punnagai Arasi' in Tiruchi. To have a good smile one needs to have good teeth, and I had that asset, thanks to my long time dentist Dr. Janakiraman. He is also a consultant for other celebrities from the South Indian filmdom and in Hindi too.

I have done nearly 400 films in all the South Indian languages, including 100 films each in Malayalam and Telugu, and half-a-dozen in Kannada, and one in Hindi titled Oonche Log. My co-stars in the Hindi movie were Raj Kumar and Feroz Khan. I received more offers in Hindi, but I did not accept them as I was busy in the South.

If I were to pick the best of my films, the list will include Karpagam, Selvam, Saraswathi Sabadham, Nenchirukkum Varai, Namma Veetu Theivam (this was the movie in which I first started depicting deities), Dheergasumangali (I first started playing a mother in this film), Idhayakamalam, Thangapathakkam, Thirusoolam ... The list is long.

Without a doubt, I like Sivaji Ganesan's acting and the way MGR behaved with people and respected others. I like Jai Shankar, Muthuraman and quite a few others. I liked all the actresses. I am a fan of Pappima (Padmini), Vyjayanthimala, Saroja Devi and Savithri.
The director "who gave me life" K.S. Gopalakrishnan directed me in my 100th film Nathaiyil Muthu. There was abig celebration. All the VVIPs were present, including MGR, Sivaji Ganesan, Kannada actor Rajkumar, A.V. Meiyappa Chettiar, and others. I become nostalgic when I look at the photographs of the function now. Another unforgettable incident was the time when my husband and I presented a golden crown to Lord Iyyappan, the Urchavamoorthy of the Lord came to our house. That was another memorable occasion.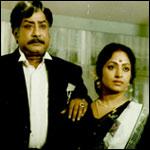 Looking back I feel that I must thank God for giving me more than I need, and the very best in life and films. I was privileged to work with some very good directors, co-stars and technicians. I am happy and contended. I will keep acting till I can work no more.

FILMOGRAPHY
1. Mr. Brahmachari (2003) .... Vasumathi
2. Raithu Bharatam (1994)
3. Bhairava Dweepam (1994)
.4. Sutradhaarulu (1990) .... Yashodamma
5. Yogi Vemana (1988)
6. Majnu (1987)
7. Vishwanatha Nayakudu (1987)
8. Bhale Tammudu (1985) .... NTR's fiancee
9. Shri Vinayaka Vijayam (1980) .... Durga Devi
10. Nathayil Muthu (1973) .... Chelakannu
11. Annai Velankanni (1971)
12. Bhale Papa (1971)
13. Sridevi (1970)

14. Ekaveera (1969)
15. Palmanam (1968)
16. Anveshichu Kandethiyilla (1967) .... Susamma
17. Kandan Karunai (1967) .... Muruga's Consort
18. Thangai (1967) .... Leela
19. Paramanandayya Shishyula Katha (1966) .... Chitralekha
20. Shri Krishna Pandaviyam (1966)
21. Yarukaka Azhudan (1966) .... Lodger
22. Odeyil Ninnu (1965) .... Lakshmi as grown-up
.23. Server Sundaram (1964) .... Radha

Self:

1. Thyagayya (1981) .... Kamala